The following two tabs change content below.
Latest posts by techwriter (see all)
Authorware is a great e-learning software… or it "was" because I'm not sure what the status of this venerable software is these days, four years after Adobe bought out Macromedia.
Today I wanted to pay a visit to Authorware site for old times' sake and this is what I got…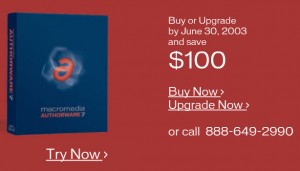 Upgrade by June 30, 2003? What does that tell you about the status of Authorware these days within the larger Adobe family of products?