The following two tabs change content below.
Latest posts by techwriter (see all)
I really love Gmail. I'm so happy with it that although I do have a regular web-mail for this site I continue to use my writer111-at-gmail-dot-com account for all my communications. It works well with its infinite storage capacity and many ways in which you can mark, label and search for your mail.
The only time it doesn't work is when web sites like Alexa insist on a paid e-mail account to register your blog. That's the only time I use my web mail.
Google team is a smart and active bunch who never rest on their laurels. They keep coming up with these wonderful new functionalities that make Gmail even a better application to use.
Here are some of the Gmail goodies that I like. Go to the Settings > Labs tab of your Gmail account to see the whole amazing list:
Canned Responses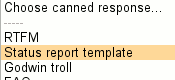 Email for the truly lazy. Save and then send your common messages using a button next to the compose form. Also automatically send emails using filters.
Custom Label Colors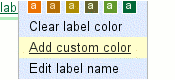 Lets you create your own combination of colors for labels with which you can mark your mail into "categories" (I do it all the time). Instead of choosing one of the standard colors from the label dropdown menu, click on Add custom colors. Pick your combination of colors, hit Apply, and enjoy.
Multiple Inboxes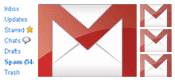 Add extra lists of emails in your inbox to see even more important email at once. The new lists of threads can be labels, your starred messages, drafts or any search you want, configurable under Settings.
Create a Document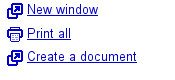 Allows you to create a Google Document from an email conversation or a new blank document if your keyboard shortcuts are enabled by hitting 'g' then 'w'.
Forgotten Attachment Detector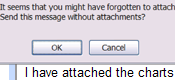 Prevents you from accidentally sending messages without the relevant attachments. Prompts you if you mention attaching a file, but forgot to do so.
Location in Signature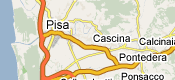 Appends your location to your signature. You must have your signature enabled.
Tasks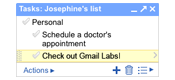 Tasks adds a to-do list to Gmail. After adding the lab, click the Tasks link above the chat box on the left-hand-side of the page. Your task list will appear on the right – click anywhere in the list and start typing to add a task.
You can also create a task from an email: from the More Actions menu, choose Add to Tasks when viewing an email, or press shift+T if you have keyboard shortcuts enabled. For more shortcuts, explore the Actions menu at the bottom of your task list.