The following two tabs change content below.
Latest posts by techwriter (see all)
© Ugur Akinci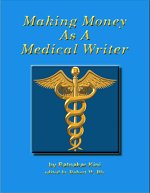 This is a great 62-page e-book for those who are new to Medical Writing. It accomplishes its main task of introducing the reader to different types of medical writing that exist and provides a long list of resources to inquire further into the various possibilities.
Chapter titles are:
Chap 1) What is Medical Writing?
Chap 2) How to Become a Medical Writer?
Chap 3) Medical Writers' Associations
Chap 4) How to Write Medical Articles and Medical E-Books?
Chap 5) Medical Writing for Websites
Chap 6) How to Get Medical Writing Projects
Chap 7) Resource Guide
The e-book includes quite a few samples including a sample medical article, a sample medical writer resume for applying to various positions, many bulleted lists on how to satisfy clients and how to market oneself as a medical writer.
I found the chapter on writing medical articles and e-books especially helpful since it includes a step-by-step tutorial on how to publish an e-book on various on-line platforms.
The chapter on medical writers associations was also helpful for me since I was not even aware of the most of the organizations mentioned in here.
The pages devoted to how much to charge for medical writing are also precious since it presents the summary of a valuable market research. Without that kind of knowledge, you might either leave money on the table by asking for too little, or lose a bid by asking for too much. That kind of benchmark comes in handy when submitting a quote in a competitive bidding situation.
This is a good book that presents a concise birds' eye view of a well-paying writing niche. You can read it comfortably in one sitting, and acquire many excellent ideas as to what to do next. And the best of it all is, it comes with Bob Bly's 90-day money-back guarantee. If you don't like it, you can always ask for a refund.
Click here to read more about the contents of this e-book and to purchase it