The following two tabs change content below.
Latest posts by techwriter (see all)
Whether you are just beginning your tech comm career or want more knowledge and skills to move up the corporate ladder, STC Certificate Programs offer what you need. Five different hands-on programs will be offered 2–3 May in Atlanta, GA, taught by renowned experts.
Alexia Idoura, Uta Bamberger, and Katy Mullally will show you how to introduce and implement content management in your company in their sessions, Content Management From Justification to Implementation. This seminar teaches you how to evaluate content needs, make a business case for moving to a CMS, choose a CMS that meets specified needs, structure content with XML, and other conceptual and practical knowledge related to making this change. Their presentation draws from real-world case studies from Symantec and other companies.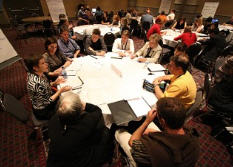 Well-known presenter Saul Carliner leads a session that will help you move up the chain of responsibility in Technical Communication Manager Certificate. Over two days of intensive explorations you will manage a tech comm group communicating expectations regarding a job, evaluating performance, establishing a vision, making business cases, and "selling" your group. In realistic exercises, you will develop a strategic plan for your group, prepare a business case for proposed projects, manage the performance planning and evaluation process, motivate your workers, and market your group's services to skeptical internal "customers."
Bernard Aschwanden will present DITA: From Legacy to the Future, Publishing Smarter, which will cover how to migrate legacy content to structured formats for use with numerous tools and technologies including FrameMaker, XMetaL, content management systems and more in these two days. You will learn how structured writing benefits companies and also learn how to move unstructured content to structured content through analysis and automation. You'll become comfortable with DITA specifications including the core element types used daily by technical communicators already using DITA and how this helps the use of a CMS for reuse, workflow, management, and publishing.
Always a very popular hands-on workshop, be sure to register soon for the Adobe Technical Communication Suite. You will gain experience with each of the components of the Adobe Technical Communication Suite 2. With its combination of best-in-class tools, the Adobe Technical Communication Suite supports technical communicators in authoring, managing, and publishing technical information to books, PDF, online help systems, knowledge bases, and e-learning systems, in multiple formats and languages. Expect the best from top-notch instructors Kevin Siegel, IconLogic, Inc., who has written more than 100 step-by-step computer training books, and Matt Sullivan, Roundpeg, Inc., whose extensive background in digital prepress laid the groundwork for his expertise in both the Adobe Technical Communication Suite and Adobe Creative Suite. Bring your laptop for two packed days of hands-on learning.
Ginny Redish, STC Fellow and winner of the Jay Gould Award for Teaching Technical Communication, will help those new to the field of tech comm jump-start their career with the two-day intensive course, TechComm 101. You will benefit from her time-tested tips for taking work through reviews successfully, understand and be able to do small-scale usability testing, and take away a list of useful resources to continue your professional development after the workshop. You will learn that even the most difficult document is a process that can be described and followed, become proficient in analyzing audiences, topics, and tasks, hone skills at gathering information interviewing, and practice specific guidelines for organizing and writing successful technical communications. You will also understand the similarities and differences in writing for print and writing for the web.
Click here for more information on STC Conference