The following two tabs change content below.
Latest posts by techwriter (see all)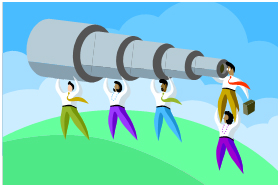 © Ugur Akinci
A SCOPE document is one of those fundamental documents that define and guide any major project. As a technical writer you may be asked to write one, in close coordination with the project management (or your private client).
In terms of its strategic abstraction, the SCOPE comes right after the VISION document.
The VISION document expresses what the company/project ideally and ultimately tries to accomplish, if no limits (time, staff, finances, technology, etc.) were involved.
The SCOPE document, on the other hand, is all about realistic limits, boundaries, and how to achieve the project's goals despite such limitations. That's why most scope documents also do include a section on RISK analysis and management.
The worst-case scenarios and how to cope with them is usually included with a SCOPE document as well.
SCOPE documents differ widely from one project to another. But in its most general outlines, here are its 6 major components:
1)Introduction and definition of project's goal. List of deliverables.
2)Business rationale and the justification of the project.
3)List of stakeholders and their rights, duties, and responsibilities.
4)List of resources, their availability and limiting factors.
5)Time table for deliverables.
6)Risk analysis and management.
Technical specifications can be written only after a consensus is reached on the all-important SCOPE document.
Did you like this post? Can we improve it in any way? What do you think? Please feel free to share your mind…
Resources:
Technical Writing 101: A Real-World Guide to Planning and Writing Technical Documentation

Kaplan Technical Writing: A Resource for Technical Writers at All Levels

Spring Into Technical Writing for Engineers and Scientists

Technical Communication by Mike Markel