The following two tabs change content below.
Latest posts by techwriter (see all)
© 2009 Ugur Akinci
There are two basic business models for writers penning articles for a living: they are either paid a fixed amount upfront or they get a cut of the AdSense or other advertisement revenues.
How would you know which option pays more?
In the short-run, the answer is clear: upfront fee will always bring you more immediate cash. There is no doubt about it.
But what about the revenue sharing model? In the long-run, would you be leaving money on the table if you went for the single lump-sum payment?
The problem is there is very little quantifiable data. One web site, however, the Demand Studios, has recently shared some data with its writers. I find it useful to share this information here with you.
*** Enter: Demand Studios
First I'd like to congratulate the Demand Studios for their attempt to bring transparency to the process and help their authors make better decisions in the long run. That's admirable indeed. I wish more article directories followed their lead.

Overall, I believe the Demand Studios is encouraging their authors to go for the revenue sharing plan since that would minimize their upfront cash outlay. If I were them, I'd probably do the same.
The numbers they provide might encourage more senior writers for the cash upfront payments while convincing relatively junior writers with few other options to take the revenue sharing path.
Here are the figures provided by Demand Studios (DS), based on their real-life February 2009 data: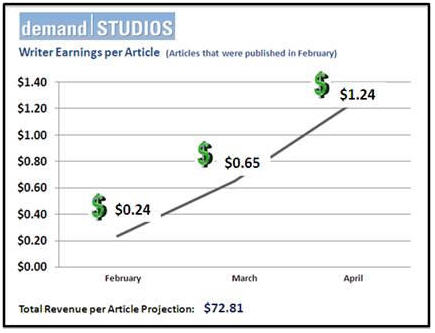 By the third month, average monthly payout per article is $1.24. Based on historical data, DS projects these articles to pay out an average of $72.81 over their 5 year life-time.
*** $14.5 an hour
DS says "for about 1 to 2 hours of work per article, we hope you'll find this time well spent."
They certainly have a valid point there but to be fair about it, we have to divide that $72.81 into 5 to find the annual yield, which comes to $14.5. To me that is more likely the "hourly" equivalent of a writer's effort per article per year.
NOTE: This of course assumes that it'll take you only an hour to write that article in question (which is not always the case). If, for example, it takes you 2 hours to write an article, then your "hourly wage" would drop to $7.25, or just about the minimum U.S. wage.
*** $29K a year (with no benefits)
It all depends on whether as a writer you have more lucrative alternatives or not. Remember that getting paid $14.5 for an hour's work of writing corresponds to getting paid $29,000 a year (with no benefits) if you were employed full-time.
If you can find yourself a job for more than $29K a year, I'd say writing articles for Demand Studios is probably not the best way to utilize your time.
However, if right now you are making less than $29K a year as a writer, I'd say writing for DS might be a good alternative indeed. It all depends on what kind of a writer you are and what other money-making alternatives you have available to you.
*** 20 articles a month
In another interesting numeric analysis, DS analyzes what might happen if one were to write 20 articles a month, every month, for two years, and then stop writing: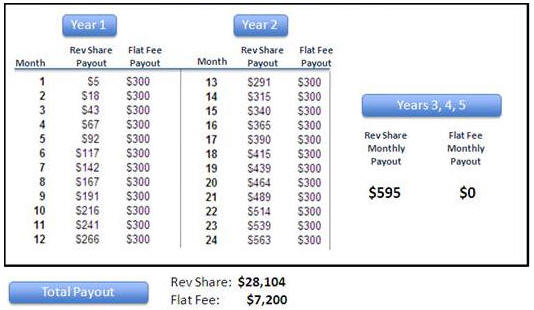 A writer would be crazy not to take the revenue sharing option ($28,104) over the upfront payment ($7,200) over 5 years. However, even the revenue sharing model brings only $6,689 within the first 2 years, or $3,344 a year over the first 2 years.

Here the key factor is your productivity. Some people can write 20 general-purpose articles in a few days or a week. Yet a great majority would take a whole month to write the same 20 articles.
*** Niche articles are harder to write

If you take a peek at the kind of articles DS needs, you'll quickly realize that they are not the kind of generic run-of-the-mill general purpose articles that you find in many other article directories. It takes either a lot of knowledge or a lot of research to write the kind of tightly-focused niche articles DS pays for. Thus I think, for most writers, it would not be easy to write 20 specialized articles a month non-stop for 24 months.
If writing 20 articles takes you a whole month, this means even with revenue sharing model your income will be just $5,620 a year (with no benefits) over 5 years. Clearly you're going to need another job or two to make the ends meet.
Even if you can write 20 articles a WEEK for 2 years straight, your income would be just $22,483 a year (with no benefits).
*** Bonus after the first two years, according to DS

But here is the alleged BONUS: after 2 years, even when you STOP writing anything, you will continue to pocket almost $600 a month (according to DS projections) if you went by the revenue sharing plan. But if you choose money-upfront option, then your income would of course drop to zero (since you've stopped writing), as explained in the above graphic.
Thus if you are a highly-productive and patient writer it might pay off to stick with DS's revenue sharing plan for two years, if the DS numbers and projections are correct. That's an interesting prospect worth some consideration, especially if you do not have any other viable alternatives to earn money with your writing.

*** CONCLUSION
My overall personal assessment of the DS site as well as others is this: these sites make perfect sense as a supplementary-income generating option for highly-productive writers who can write a lot of articles in a hurry and in fields that they already know quite a bit about.
But if you can't write fast or if you need to conduct research for the articles you write, then your monetary returns will be lowered considerably.

However, if you forget about the money-making focus and look at this kind of article writing mainly as a marketing method, then it might bring you the kind of attention and secondary-income generating traffic that is not taken into account by the above income projections.
If long-term marketing is what you primarily have in mind, then article writing always makes sense.
On a personal note, that's precisely the reason why I've written and published over 1,000 articles over the Internet myself. I did not publish them because of the short-term or long-term income they've generated, but because of the publicity they've brought my way for the last 5 years. That's however a rationale that should not be confused with the pure money-making argument outlined above.