The following two tabs change content below.
Latest posts by techwriter (see all)
© 2009 Ugur Akinci
As Ezine Articles' Chris Knight keeps reminding his writers, there needs to be a fair "give and take" between the body of an article and the author's credit links in the footer. The same is very true for web writing as well.
Yes, when we're contributing fresh and useful articles to the world we'd like to get some credit by way of visitor traffic, if not immediate cash. So it is completely justified to include our links at the bottom of the article or web page as due compensation for our efforts.
However, there needs to be a BALANCE between what we GIVE in the body of the text and what we TAKE back in the form of self-serving links or information which goes into the footer.
GOLDEN RULE: For ANY kind of article or web page there should ideally be NO (or at most ONE) self-serving links within the body of the text and no more than THREE sentences and TWO self-serving links in the FOOTER of the article or web page.
When that balance is altered dramatically, your readers will feel shortchanged if not cheated. Here is a glaring example of the way this most basic INFORMATION DESIGN principle is violated: a web page about an interview with a prominent Hollywood stylist.
PROBLEM: In this web site, the main story itself is 320 words but the "About the Author" footer is 450 words!  Don't do it.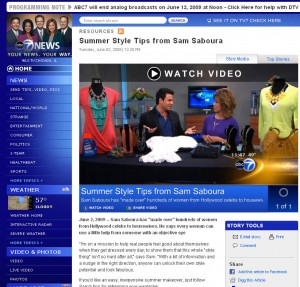 SOLUTION: Cut the footer down to three short sentences and include one or two self-serving links. It would suffice to note that the author is "a prominent Hollywood  stylist and television's original makeover authority" followed by the link(s) to his web site for those interested to learn more. That's it. That kind of brief information would have worked much better than the current footer which outperforms the article itself in word count.
A section of the unusually long "About the Author" footer in question…