The following two tabs change content below.
Latest posts by techwriter (see all)
Craigslist.com is a wonderful resource for those looking for copy or technical writing job assignments.
But most people check out the ads by eyeballing them daily. That's a lot of work.
Here is a much easier and automatic way of finding out about new jobs: create your own Craigslist RSS feed.
Follow these steps:
1) Go into Craigslist and search for the writing jobs in the city you're interested in.
For example: "French cook." Click Search.
As you can see, if you wish you can search only for "telecommuting French cook" jobs or "non-profit French cook" jobs by selecting the appropriate check box(es).
Your search results will be displayed in a page listing all the job offers available for French cooks. Or rather, Craigslist will return all the ads with the words "French" and "cook" in them, but not necessarily concatenated as a phrase.
To search only for those ads that specifically mention "French cook", put quotations marks around your search terms. That would decrease the number of returns considerably but deliver more targeted results.
2) Look at the LOWER RIGHT corner of the search results page. See the orange RSS button there?
3) Click on the RSS button to display the RSS page.
4) Select your RSS publisher from the drop down list.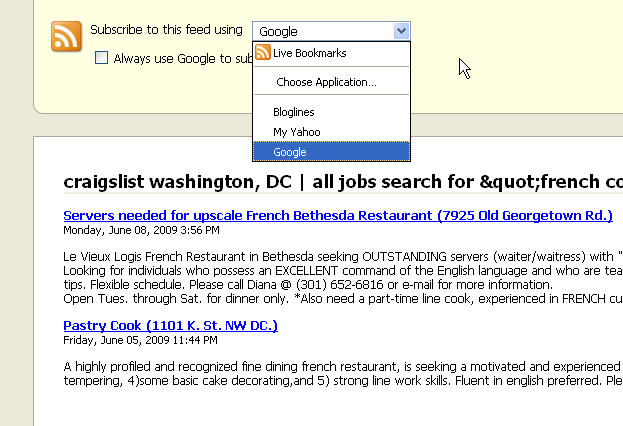 5) Click Subscribe Now and voila!  You're done.

Now you can just go to your Google or Yahoo startup page and see all the new "French cook" jobs already listed, waiting for you there.
To see a live example of such RSS feeds, visit our own JOBS Page which lists a number of such feeds for the keywords "technical writer" for different cities around world.