The following two tabs change content below.
Latest posts by techwriter (see all)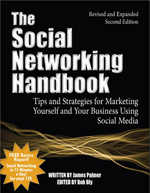 © 2009 Ugur Akinci
"Tips and Strategies for Marketing Yourself and Your Business Using Social Media" by James Palmer, Edited by Bob Bly, 138 pages downloadable e-book. Revised and Expanded Second Edition
This is a comprehensive and practical guide to using all kinds of social networking sites to your advantage as a technical communicator and online marketer.
Here are some of the chapter titles to give you a better idea about the content:
Online Video, 8 Social Networking Case Studies, Make Yourself at Home at Second Life, Marketing Your Brand Band and Business Using MySpace, How to Use Twitter, Palmer's Social Marketing Maxims, The Wonderful World of Widgets, Measuring Social Media, How to Get Search Engines Love Your Site with Social Media, and many more.
One chapter I especially loved is the BONUS REPORT about "Social Networking in 15 Minutes a Day." This is a practical hands-on map to building up your footprint on the "social space" by following this marvelous 15-minutes-a-day plan. If you follow the tips, charts and strategies presented clearly in this report I see nor reason why you should not reap the fruits of your efforts in a matter of weeks and months. This chapter alone is worth the price of this e-book.
This e-book is peppered with highly relevant sidebars, tastefully printed over an orange background to distinguish them from the main body text. Some of these sidebars provide hands-on advice and directions on issues that can make a huge difference in your marketing campaign.
For example: "5 Ways to Make a Splash with Viral Videos" on page 25 is one such sidebar. I call it a "sidebar" but actually it's a mini-chapter that takes almost 7 pages.
Another excellent sidebar is named "Seven Tips for Getting More Out of LinkedIn" on page 79.
Chapter 11, The Most Important Social Networking Sites, introduces 28 such social media sites. Even though I spend hours every day on the Internet I must admit there were still a few sites in this list that I had not heard before.
You can't miss with this powerful handbook, especially if you are just beginning out with social networking or you are a veteran writer and marketer who'd like to have a crash course on the latest trends and platforms available out there today. This is the Revised and Expanded Second Edition.
The fact that Bob Bly also offers a 90-days no-questions-asked money-back guarantee means you've got nothing to lose really by checking out this very useful volume. Highly recommended.
NOTE: Those who order this book also get (and for FREE) the Special Bonus Report, Online Marketing That Works (list price: $29).
DISCLOSURE: This is an affiliate product for which this web site receives a commission.