The following two tabs change content below.
Latest posts by techwriter (see all)
© 2009 Ugur Akinci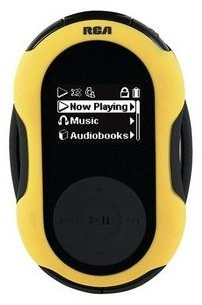 I love to jog but I get bored running alone since it usually takes me anywhere from 45 minutes to over an hour to complete my 3 to 5 miles, depending on the day, weather conditions, etc.
So I bought myself a nifty little MP3 player (with built-in FM Radio) to keep me company during my weekly runs.
It's RCA S20 – small, yellow, and cute as a spent bar of soap. If you don't pay attention to where you put it, you can easily lose it inside the house or office.
Since my main goal is to listen to my favorite FM station NPR (National Public Radio), I'm pleased with its performance.
The sound from the earpiece is loud and clear (even if a bit on the tinny side)  and the station remains locked comfortably throughout my run. I'm hoping it'll prove to be rain and sweat resistant as well. I don't think I can expect more from a $29 gadget.
However, I noticed: strapping it onto my arm as recommended becomes a nuisance when the earpiece wire keeps brushing against my arm. I keep S20 snug in the pocket of my running shorts. The earpiece cord is long enough to reach my ears comfortably.  It works much better that way.
I not only liked this nifty little sports radio but I liked its QUICK START GUIDE as well. More often than not consumer products have poorly-designed documentation which takes the fun away from using the product. Not this one.
Here is the first page of the accordion-shaped guide, with Spanish version on the reverse side: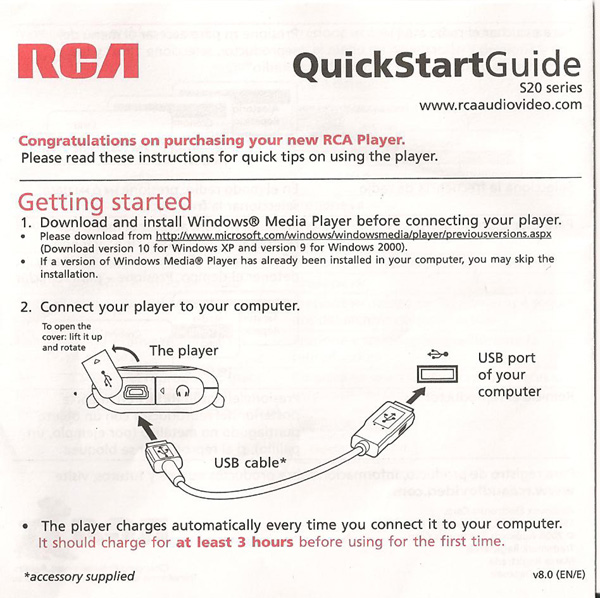 Have you noticed how the MOST IMPORTANT THING addressed the first? Download the Windows Media application if you do not have it on your machine (sorry Mac users).
SECONDLY: connect your S20 to the USB port of your computer since that;s how it CHARGES itself. This player does not have any batteries. That's why it's so small. It charges itself through your computer within a couple of hours.
Here is the second page: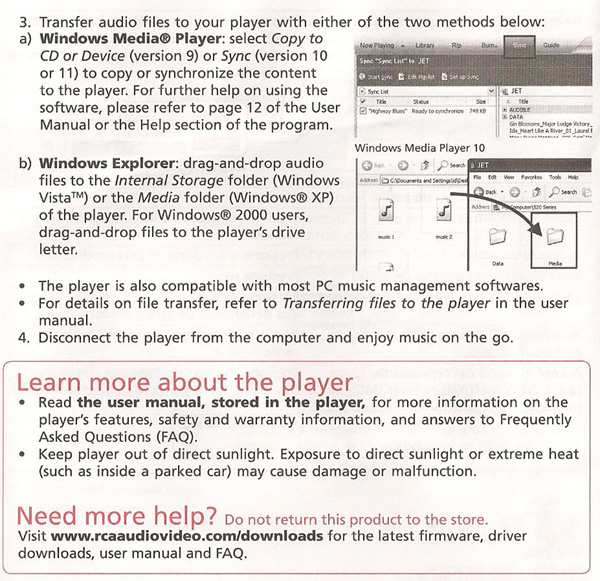 How are you going to transfer the MP3 files from the computer to your S20 — that's also very efficiently explained through images. The ARROW very clearly explains the direction of the drag-and-drop action needed. You do not even need to read anything to understand that.
There are two important pieces of information printed in RED: what to do to learn more or if you need more help. "Do not return this product to the store" is an important reminder. In my case, however, I can return it to the store where I bought it from because I also purchased a service contract good for 2 years.
Next page: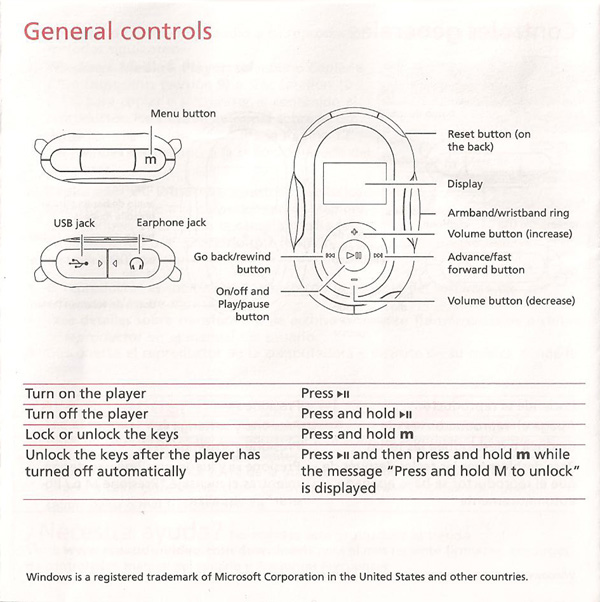 CONTROL BUTTONS — if I wrote this guide I would've introduced these buttons earlier, especially the ON and OFF buttons.  But that aside, the functions of the buttons are explained well. The drawing does not leave any room for doubt. The TEXT explanation of how to LOCK and UNLOCK the keys is also precious since sometimes you can go crazy trying to figure out how to unlock a keyboard.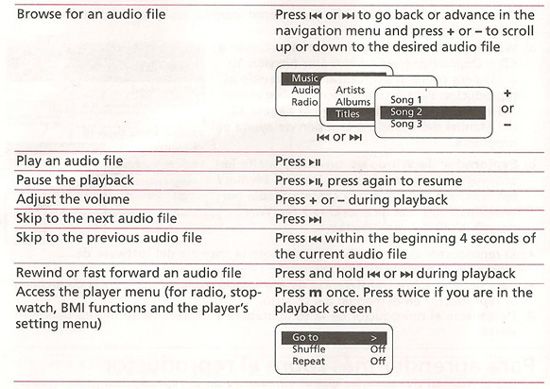 Controls for MP3 player are explained clearly, concisely, just how you'd expect it in a Quick Start Guide. I especially liked the triple-cascading screen shots  for "Browse for an audio file" since they show you a Time Sequence of events in 2-dimensions. Well done.
Last page: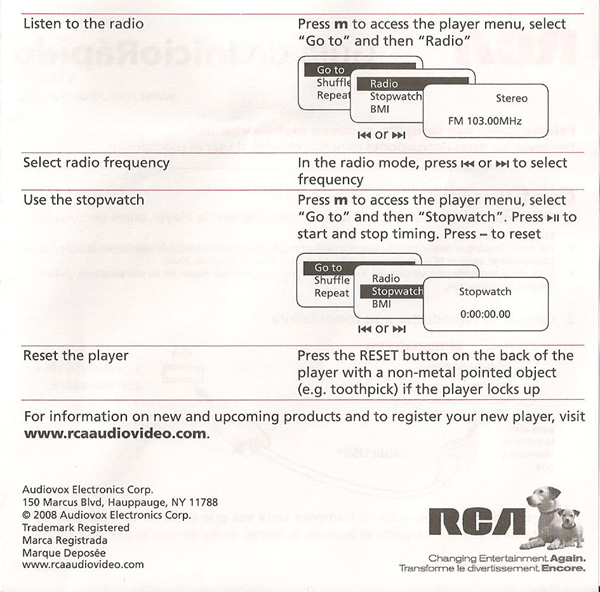 The last page also displays the same "cascading triple screens" to give us a realistic sense of which screens will display if we follow the instructions and push a certain button repeatedly.
The information to use the all-important RESET button can come in handy for all electronic gadgets with a firmware.
Overall, a great Quick Start Guide that delivers the promise.
P.S. Would you like to learn how to write effective consumer product reviews and documentation? Here is an excellent affiliate product (that I purchased at full-price for my library): "Write Hi-Tech and Business-to-Business Copy for Fun and Profit"