The following two tabs change content below.
Latest posts by techwriter (see all)
I love both Classical Music and Information Design with a passion. When you put these two things together what do you get? You get a guy who salivates over the ticket-ordering interface of great musical institutions like the Kennedy Center in Washington D.C., or the Strathmore Center (my true love!) in Bethesda, Maryland.
Here is my review of the wonderful ticket-ordering system that the Kennedy Center (KC) put together for its patrons.
1) When you click the BUY NOW button in the email you receive from KC about an upcoming concert, you are directed to a page that clearly describes what's ahead: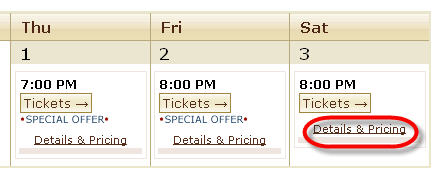 2) Click the Details & Pricing link to see if there are any tickets at your price range and preference, and you are led to this page: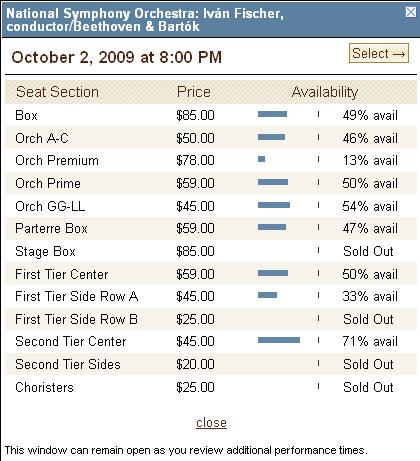 Don't you love this level of detailed information? The bar chart is updated dynamically and tells you exactly which seats are still available, and at what price.
3) So you want to know more? No problem. Click the SELECT link and you are looking at this: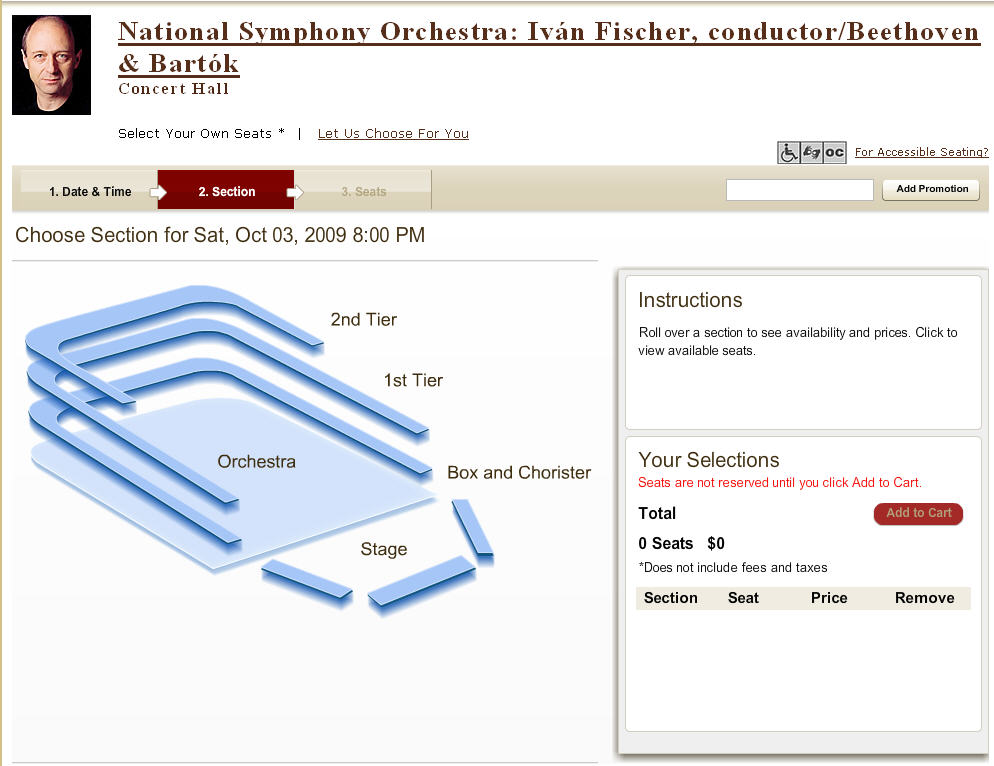 Now this is getting exciting, isn't it?  Not only I can see the conductor and read the concert's repertoire, but I'm looking at the concert hall itself. I feel like I'm halfway there already 🙂
4) Just move your cursor over any of these sections and you are displayed this: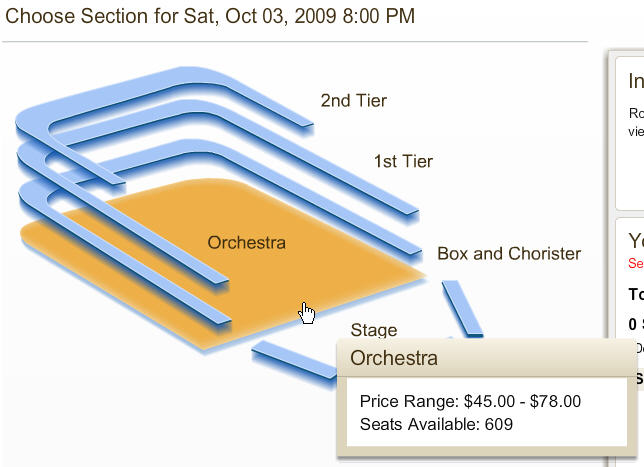 5) This intelligent interface leaves nothing to chance (but wait yet!). You now know exactly how many seats are still available at the level you are interested in and how much they cost.
But this gives you the RANGE. What about the INDIVIDUAL SEAT you might be interested in? Would the system allow you drill down to the level of the individual seat? Let's try…
6)You double-click the section and you are carried to a detailed seating plan where available seats are coded YELLOW and unavailable ones are shown in WHITE.  You can go in any direction you want and zoom in or out by using the controls on the left side of the seating chart.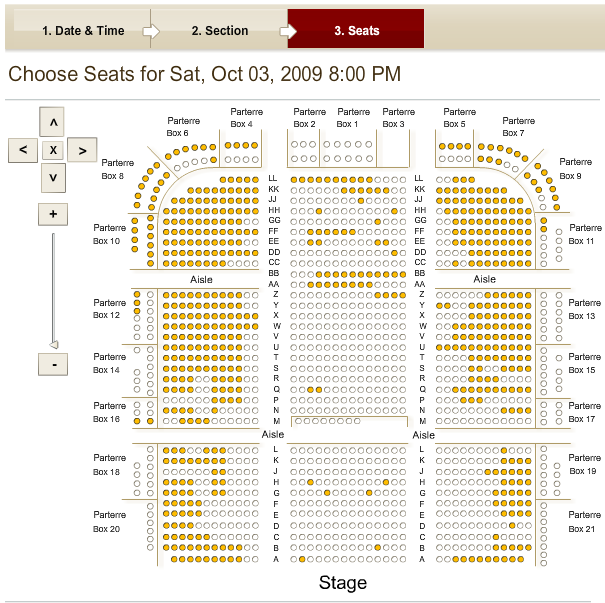 7) Okay. Let's ZOOM IN: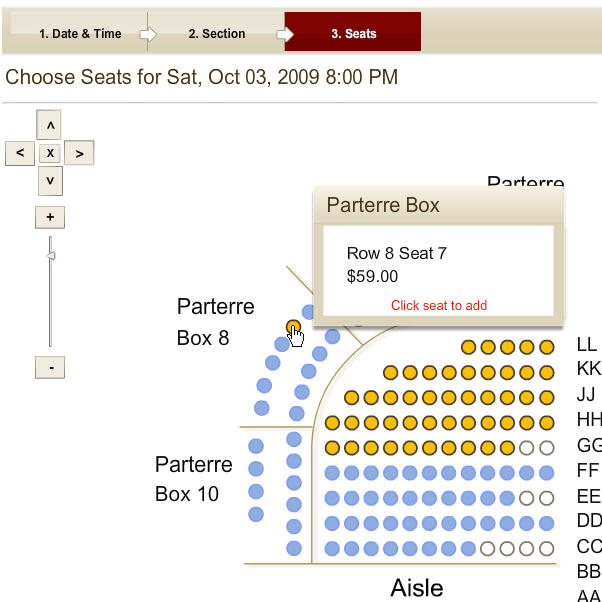 Isn't this WONDERFUL?! Now you can select any individual seat you want (if available) and click on the RED "Click seat to add" link to add it to your shopping cart.
But what if you like the PRICE but not the LOCATION of the seat itself? Can you check out all the other seats available for the SAME PRICE? Yes you can.
Click the SAME PRICE button on the upper left and when you move your cursor over a YELLOW seat all the related BLUE SEATS are automatically displayed: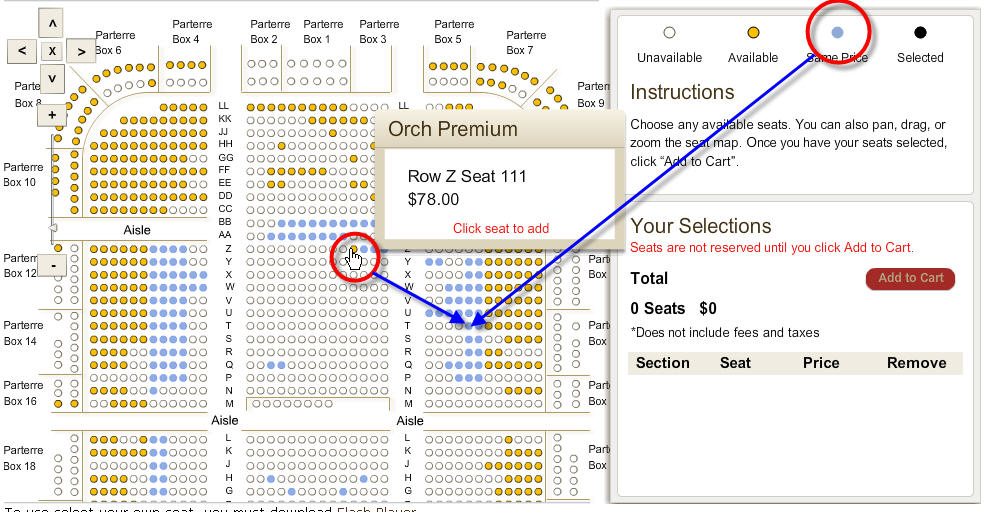 All the BLUE dots show you the other seats available for the same price. Some very intelligent people spent some time to get this thing right and by God they did.
8] OK. You have selected your seat but you're still not sure about how the stage would look from that seat. Can you see a PHOTO of the view from that section?  Yes.
9) Click the PHOTO PREVIEW button on the upper right:

And this is the CAMERA OVERLAY displayed for your convenience: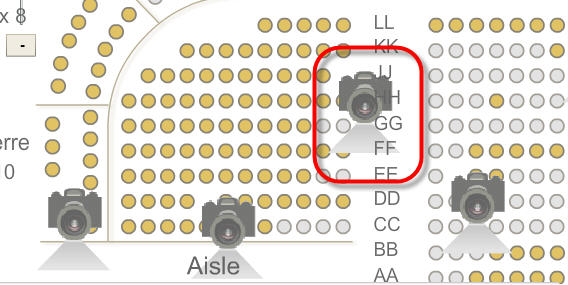 10) Select and click on the CAMERA you like, and you are now INSIDE the KC Concert Hall, looking at the stage from the seat that you selected (or close to it):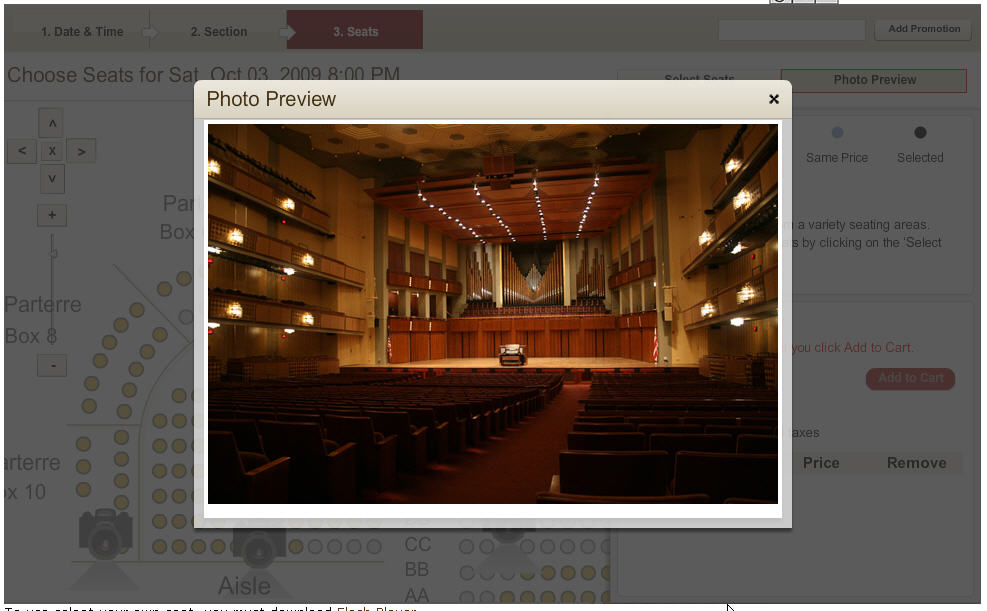 If you are a Classical Music fan living in the Wash DC area, this is my question for you: what excuse do you have for not going ahead and ordering your ticket now?
My Information Design Grade: 10 out of 10! Long live Technology!  Long live Classical Music!
(Next week I'll introduce Strathmore Center's equally smooth and beautiful ticket-ordering interface.)