The following two tabs change content below.
Latest posts by techwriter (see all)
One thing I really love about Adobe FrameMaker 9 (the center piece of Technical Communication Suite 2)  is its souped up interface. This is an interface that all technical communicators can love, especially if you've spent years constantly displaying, moving around and cleaning up all those pesky tabs.
Actually the idea of an "integrated frame" which holds together both your document window and the supplementary tabs is not a new idea at all. It has been a part of Adobe creative applications (like Illustrator, Photoshop, etc.) for a number of years. Why we FrameMaker users had to deal with all those unruly floating screens for this long I have no idea. But it's better than never of course. I welcome FM's new disciplined UI.
A second feature I love (which started with Technical Communication Suite 1) is the way Adobe is now pushing RoboHelp as its help application of choice. RoboHelp 8 continues to be an important part of the Technical Communication Suite 2 package.
So what will happen to Web Works, since for years we technical writers were told that WW was the best help-creation solution for FrameMaker? We'll see. But I can imagine the mood over there at Quadralay (maker of WW) headquarters.
Another feature that was introduced with FrameMaker 8 is the built-in menu support for DITA and Structured Authoring. FM9 continues that tradition and I applaud that as well.
Here is FM9's Photoshop- and Illustrator-like Welcome screen: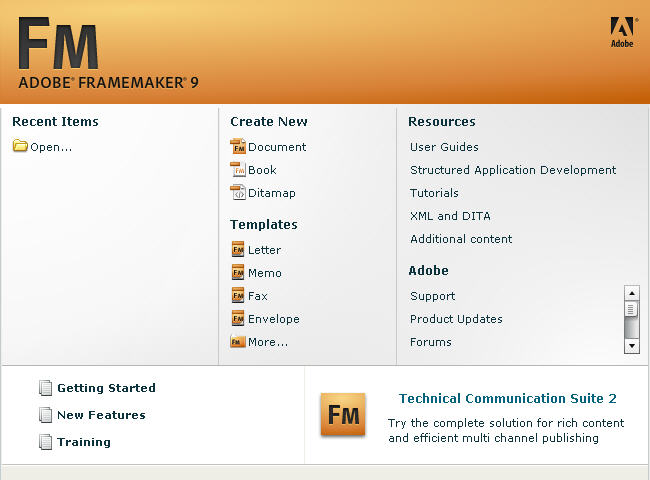 Love those easily-accessible DITA menu options:
And here is the tightly integrated Workspace that will definitely increase your productivity due to its highly customizable features. No more "floating tabs" (unless you want to and choose to create floats by ripping the tabs from their nests):
Another cool feature (also introduced in FM8) — you can view multiple FM documents or different pages of the same FM book as tabbed items, all in one screen: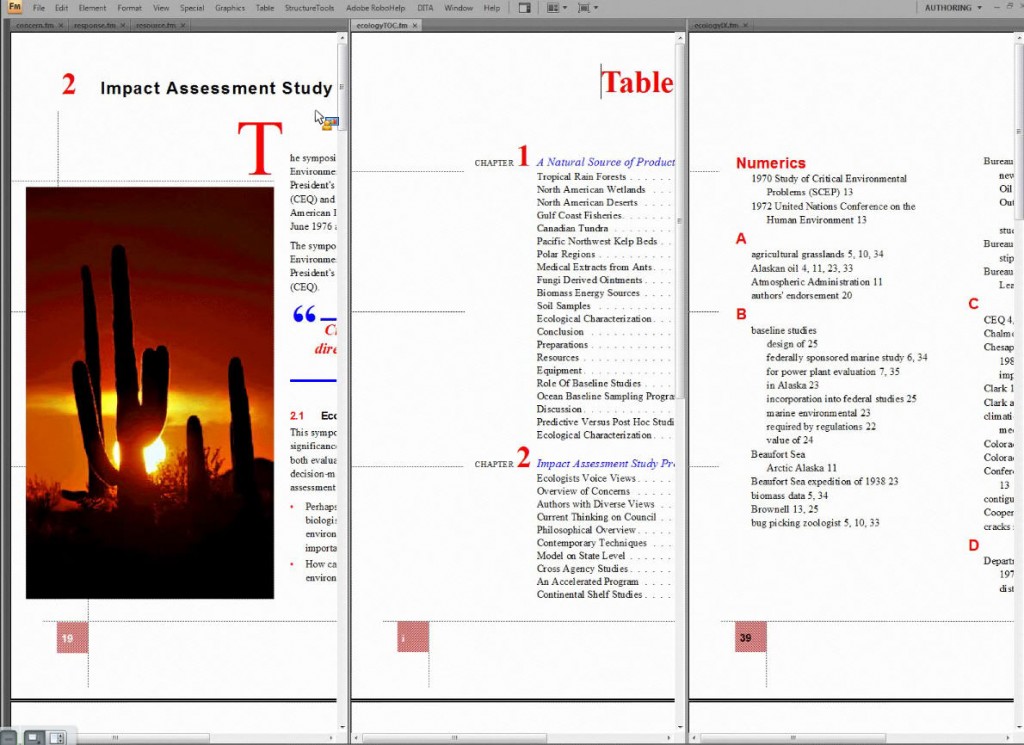 FrameMaker continues to be my technical document generator  and editor of choice.
FrameMaker 9 Resources
Adobe FrameMaker 9 Classroom in a Book

XML and FrameMaker

Adobe FrameMaker 9 VTC Training CD

Advanced FrameMaker