The following two tabs change content below.
Latest posts by techwriter (see all)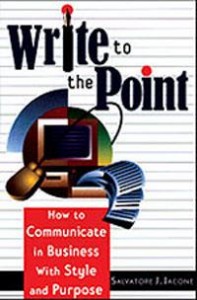 Writing in business has never been more difficult and more stressful. We live in an age of information overload thanks to e-mail, voice mail, cell phones, and pagers. Although all these wonders were designed to make life and communication easier and faster, they have also created added demands on our time.
Writers are expected to respond quickly to an endless flow of e-mail messages. What results is that readers complain about an increasing lack of clarity and abundance of mechanical errors. Supervisors and managers express bewilderment at employees' inability to simply state the essence of what they need to express or neglect to apply appropriate tone and sense of decorum.
The best and brightest of technical professionals have difficulty communicating clearly with their peers and non-technical readers whose software glitches, system problems, and changes they must address daily. They often experience frustration whenever writing to readers with little or limited understanding of their technical expertise.
The challenge for technical writers is how to bridge that gap when writing for readers with limited technical expertise. It's no wonder an "information gap" frequently exists between technical and non-technical readers given the rapid daily changes in information technology.