The following two tabs change content below.
Latest posts by techwriter (see all)
Autonumbering is a great function that allows you to assign sequential numbers to headers, tables, figures, etc. which are not necessarily sequential.
For example, you can have a table on page 1 (or topic 1) and the next in page 84 (or topic 84). If you set up your autonumbering system correctly. these tables can have captions that read "Table 1" and "Table 2" regardless of 83 pages in between them. Autonumbering is a numbering system "with memory" and "persistence."
FrameMaker 7 does have autonumbering capability but you have to write an appropriate formula in the Numbering tab of the Paragrapher Designer (for that paragraph style).
In RoboHelp 8, autonumbering does not require any formula writing.
Follow these steps:
1) Select the help file component (paragraph) that needs autonumbering (caption, header, etc.).
2) Select Format > Styles from the main menu to display the Styles and Formatting pane on the right.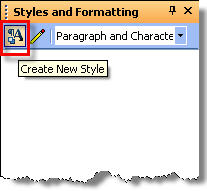 New Paragraph Style dialog box will display.

3) Enter a Style Name for your automated paragraph style. E.g., "Table Caption". Click OK to display the Styles dialog box.
4) Click the Autonumber button (the button to the right of the justification style buttons ) to display the List for Autonumbering dialog box.
5) Enter a prefix text (if any) into the Format field. For example, of you'd like all your table captions start with the word "Table", then followed by a colon and space, enter "Table: ".
6) Select Decimal (or any other alphanumeric style) from the drop-down menu in the Numbering field. Click OK to return to the Styles dialog box.
7) Click OK again to return to your RoboHelp topic. The newly created autonumering style should be displayed in your Styles and Formatting pane.
8] Click and insert your cursor in or before the paragraph (i.e., the help topic component) to which you'd like to apply the autonumber style.
9) Right click and from the pop-up menu select Apply. NOTE: Make sure the appropriate autonumering style is pre-selected in your Styles and Formatting pane. The paragraph now will display the autonumber, like "Table 1".

10) Repeat steps 9 and 10 in all the other related paragraphs to which you'd like to apply the same autonumbering style.
Click the Create a New Style button on the title bar of the Styles and Formatting pane and select "Paragraph Style" from the drop-down menu.
RoboHelp 8 Resources
Adobe RoboHelp 8 HTML: The Essentials

Ret Robohelp Office 8 Win 1U

Upgrade Robohelp Office 8 Win 1U