The following two tabs change content below.
Latest posts by techwriter (see all)
"For the serious proposal writer and technical communicator" is how Kennesaw University of Kennesaw, Georgia introduces its certification program.
Create professional portfolio pieces including a 20-page technical newsletter with a table of contents, a hardware operator's manual and an online Help System.
Learn web production software, help systems, and how to reply to an RFP (request for proposal).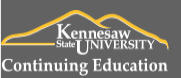 You will tackle desktop publishing software, FrameMaker, online animation tools, HTML editors, and graphic drawing software to create web-based documents. RoboHelp and Flare, the industry standards for online help screens, complete your skills as a professional technical writer. Books and homework software are included.
Prerequisite: Basic Level Certificate or one year technical writing experience plus successful completion of the Proficiency Test-Out.