The following two tabs change content below.
Latest posts by techwriter (see all)
© 2010 Ugur Akinci
Here is a mighty little volume by Scriptorium.com that should be mandatory reading for all those either brand new to structured authoring or looking for technical details about DITA (Darwin Information Typing Architecture) OT (Open Toolkit) and PDF generation.
The last chapter on "Web 2.0 in Technical Communication" is also good but not that relevant to the XML-DITA axis of this 156-page paperback.
Scriptorium President Sarah O'Keefe is an acknowledged XML and DITA expert and she should be congratulated for putting together such a useful reference book appealing to beginners and veteran tech writers alike.
If you have no idea what "structured authoring" or "XML (Extensible Marking Language)" is all about, the opening chapter "Structured authoring and XML" by O'Keefe is for you. Please read that first before going any further.
The second chapter again by O'Keefe on "Managing implementation of structured authoring" is unique in that it discusses with great candor the case for (or against) structured authoring and DITA. In every organization a certain argument needs to be made to gain the management approval for that shift to XML authoring. This chapter spills the beans and lays out into the open all the prerequisites of implementing an XML authoring project.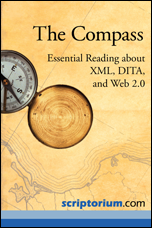 The next chapter on "Assessing DITA as a foundation for XML implementation" is a logical continuation of the previous one. O'Keefe keeps digging deeper into such issues as the "Business case for DITA" and the architecture of a successful case of DITA implementation.
The next two chapters are highly technical in nature. That's when the water suddenly gets deep. Simon Bate takes us by the hand through the minefield of "Hacking the DITA Open Toolkit."
Next, Sheila Loring and David James Kelly explain "Creating PDF files from DITA content." One special feature of this chapter is the way different XML authoring tools are discussed including XmetaL, oXygen, ePublisher, RoboHelp, etc.
Both of these chapters are not for the faint hearted or those who have not mastered the first four chapters. But they're a must if you see structured authoring in your future.
The work is concluded by another chapter by O'Keefe about "Friend or foe? Web 2.0 in technical communication" where she takes a sweeping survey of our brave new cyber ecology.
Most of these chapters were published in one form or another on the Scriptorium web site. So you might find newer versions of these chapters, plus some newer ones, if you visit Scriptorium.com. However this tightly-written small volume still makes excellent reading if you, like me, like to take not only James Patterson thrillers but a good book on XML to the beach as well. Recommended.