The following two tabs change content below.
Latest posts by techwriter (see all)
© 2010 Ugur Akinci
(1) Open the OpenOffice Impress slide to which you'd like to add a sound clip. This sound file will play each time you load the slide.
(2) Click the Gallery button on the Graphics Toolbar (bottom of page).
This will display the Gallery screen at the top of the selected slide:
(3) Select the SOUNDS option from the left navigation bar to display the default sound files that come with Impress:
NOTE 1: To see the names of the sound files, click the Detailed View button:
(4) Either drag-and-drop the sound file to the slide or right click the sound file and select Insert > Link from the pop-up menus.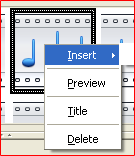 This is how the sound file will be represented in your slide edit window:
NOTE 2: Make sure the borders of the sound file icon does not overlap the body of the slide. If it does, the sound file will display as an ugly black square on your slide when you run it.
NOTE 3: Sound files that are dropped/inserted outside the borders of the slide will NOT display during your presentation.
NOTE 4: You can scale the size of the sound file icon by selecting the GREEN HANDLES around the sound icon and moving them in or out.
(5) Once the sound is linked to the slide by following the above steps, click the Slideshow button (on the top toolbar) to test the sound:
NOTE 5: You can select and insert/link multiple sound files to the same slide. However be aware that such sound files will play simultaneously when you load the slide, creating an interesting or perhaps an annoying sonic effect. Always test the sounds before releasing your slide presentation.