The following two tabs change content below.
Latest posts by techwriter (see all)
© 2010 Ugur Akinci
Adding a Home Button to an OpenOffice Impress slide is very easy. When the user clicks this button she'll automatically be sent to the first slide (Home) in the presentation.
Follow these steps:
(1) Select a slide and display it within the slide edit window.
(2) Click the Gallery button on the Graphics Toolbar (bottom of page).
This will display the Gallery screen on top of the slide edit window:
(3) Click Homepage to display the available home page icons. Select one. For example:
(4) Drag and Drop the home button onto the slide. Move it around for the best position:
(5) While the home icon/button is still selected (green handles displaying), click the Hyperlink button on the toolbar at the top:
This will display the Hyperlink dialog box:
NOTE: Make sure Document is selected on the left navigation bar.
(6) Click the Target in Document browse button on the right of the Target field:

This will display the Target in Document screen: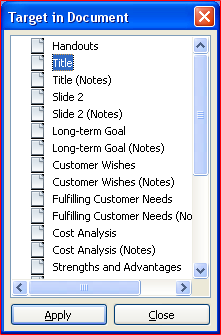 (7) Select your targeted Home slide from the list. In our case, this is the slide named Title.
(8) Click Apply and Close. The Target field in the Hyperlink dialog box will now display "Title" for target of the hyperlink: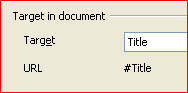 (9) Click Apply and Close buttons on the Hyperlink screen. Now the Home button is linked to the home (index, or, title) slide.
(10) To test the link, click the Slideshow button on the top toolbar:

TEST: This will display the slide in a browser window. When you click the Home button it should take you to the "Home Page." If not, it means you've done something wrong in one of the earlier steps. Check all your earlier steps and re-link the button.