The following two tabs change content below.
Latest posts by techwriter (see all)
© 2010 Ugur Akinci
Windows 7… what a great OS this is… I'm really surprised both by its features and the way it looks on the screen of my new laptop.
Here are some of the features that jumped right at this first-time W7 user:
LIBRARIES — no matter on which drive or partition your documents, pictures, videos are, Windows 7 gathers them all for you in one "library" (of documents, pictures, etc.) so that you can find what you're looking for easily.  It gathers and organizes your files by "type" (pictures, documents, etc.) regardless of their location. (See below)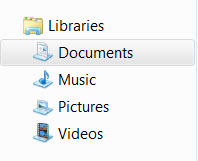 WIDGETS — you can drag and drop such widgets on your desktop as weather, CPU usage, chip speed, Tetris-like games, and zillion other "time wasters" (kidding!) that you can download easily from the Internet. (See below)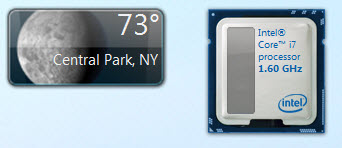 TASK BAR PINNING — you can pin any application you want to the task bar by dragging or selecting the "pin to taskbar" command. This will show not only your "most recent" files at one glance but "most frequently used" applications as well, all displayed when you hold your cursor on top of an application icon.
You can drag and change the relative positions of the pinned icons. What's more, when you hold your cursor on top of an icon, W7 displays thumbnail sketches of all windows/files currently open. For example, if the cursor is held over Word icon, you get to see all Word files currently open on your desktop. And when you click on any thumbnail, that selection becomes the main window.
SHAKE and BAKE — let's say you've got 15 windows open on your desktop and you'd like to close all of them but one. Grab that special window from its handle bar (top) and SHAKE it and all the other windows disappear (minimized)! Shake it again, and they appear. Is that cool or what!?
CLOSE ALL and REVEAL DESKTOP — if you have too many windows open and you want to see your desktop, either hold your cursor over or click the vertical black bar at the bottom- right-most corner of your task bar and bingo!  All open windows disappear and you're left with a clean desktop. Do it again, and the chaos returns. (See below)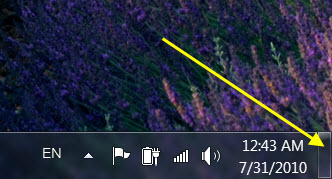 AUTO SNAPPING — If you drag a window to the edge of the desktop it automatically snaps to the edge of your desktop. If you stretch a window vertically, it stretches vertically as long as your monitor will allow. This way you can stretch and snap two windows and they'll cover your screen side-by-side, allowing you to make an easy visual comparison of their content.
BACKUP WIZARD — W7 will shows you all the options available (internal and external hard-drive) to create a backup of your files.
Windows 7 Resources
Windows 7 Bible

Windows 7 Secrets

Windows 7: The Missing Manual

Windows 7 Inside Out

Windows 7 For Dummies Book + DVD Bundle

Windows 7 Step by Step by Microsoft

Windows 7 Plain & Simple