The following two tabs change content below.
Latest posts by techwriter (see all)
© 2010 Ugur Akinci
Overall, a great package. Fantastic software. I'm glad I got it and will be happy to use and teach it.
But here are some issues you should keep in mind while installing TCS2.5:
(1) Be ready: the Suite comes inside a TCS2 package. Don't panic. The chances are the 3 discs inside are actually TCS2.5 discs which include Captivate 5.  I called the Adobe rep who encouraged me to rip the shrink wrap, take out the discs and read the serial numbers over the phone for verification. You may do the same to verify the 2.5 status of your order until Adobe comes up with a 2.5 box.
(2) RoboSource Control 3 that comes with RoboHelp 8 creates a problem when you're trying to install Photoshop CS5. PS insists that you shut down RSC3 when it's not even launched! You need to uninstall RSC3 before you can install Photoshop CS5.
(3) Presenter 7 is not a full-fledged separate program like PS or FrameMaker but actually a nifty plug-in for MS PowerPoint. That's why it won't be displayed in the All Applications list in Windows.  You access Presenter through PowerPoint IF, that is, your Windows and Office versions are compatible with Presenter. Windows 7 and Office 2010 are not compatible with Presenter 7 at this time. I hope Adobe will remedy this frustrating incompatibility issue when millions have already started using W7 and Office 2010. You can't even buy a new computer these days that comes with Windows XP.
(4) Photoshop CS5 comes in both a 32-bit and a 64-bit version. I'm not sure if you need to install both since they together take over 2 Gigs of disc space.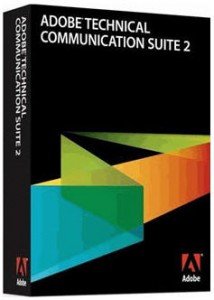 (5) Lastly, I strongly believe that Illustrator, and not Photoshop, should've been included in the bundle.
The ideal would be of course to have BOTH of these great image editing products that I've used since the early '90s. And one Adobe official has also told me that before deciding to include PS in TCS they've made a survey and PS emerged as the "overwhelming" choice. From my own experience as a tech communicator of 12 years that kind of surprised me since there are many raster/pixel editors out there to do most of the photo editing tasks that a typical tech writer accomplishes during a work day but a few like Illustrator for vector graphics.
Ask yourself, when was the last time you've heard the term "technical photographer"? And how many times you've heard "technical illustrator"?
Consider your typical user manual or installation guide… How many photos are in there, in contrast to illustrations and drawings? And how complicated are they? Usually photos are plain depictions of hardware whereas illustrations are always considerably more complex, with cut-outs, legends, see-through views, visual representations of procedures with action arrows, etc. In electronics and computer hardware, for example, it is usually difficult to explain things over the photo of a complicated motherboard or gadget. When a clean illustration of the same object is presented, the point/message usually becomes clear right away.
As someone who has seen the kind of difference a good illustration makes in globalized/localized product launches, I would not change Adobe Illustrator with any other vector program for 2-D drawings, although Corel Designer Technical Suite X4 is a better tech drawing program for isometric 3-D technical illustrations. However the close integration Illustrator has with all the other Adobe products makes up for its lack of 3-D prowess to a certain extent.
Photoshop CS5 does offer some almost-magical features like content-aware selection and erasing. You have to see that to believe it 🙂 However, I think that's a feature more proper for CREATIVE graphics than technical illustrations. For product catalogs, advertisement and magazine publishing that kind of capability can certainly save the day, especially when you're working on a deadline. But that's not the kind of person who who would buy TCS. Someone who is that much into pixel manipulation would probably go with one of the Creative Design suites that Adobe offers, and not TCS.
To include Photoshop in TCS is like offering a Swiss army knife because it comes with a toothpick.
Those are the reasons why I hope Adobe will either also offer Illustrator together with Photoshop as a part of the TCS 3.0 package, or replace Photoshop with Illustrator. I really feel that would represent a higher value for the money for a great majority of technical communicators.