The following two tabs change content below.
Latest posts by techwriter (see all)
© 2010 Ugur Akinci
MS Office 2010 comes with a useful personal productivity tool called MS OneNote 2010. It is available both for desk-top and online use. If you decide to use it online you need to have a (free) Microsoft Live account to log in. I tried the online version since that way I could access it from any computer with an Internet connection.
The idea behind OneNote is to have an "electronic notebook" wherever you go, whatever you do. For example, if you're at home cooking in the kitchen, you can save your recipes in OneNote and use them when cooking. When you're at school or office, you can use it directly to record meeting notes, a lecture, etc. — assuming of course that you have a laptop with you. I can easily see all other applications of this useful little application, similar in some ways to Google Documents.
One interesting thing about OneNote is it allows you to start typing anywhere on a page. When you click your cursor and start to type, OneNote automatically creates a text box, with its own text formatting options (like bold, font color, etc.). Click on the images to enlarge:



Here are some screen shots (click to enlarge):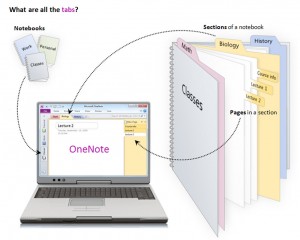 OneNote allows you keep a separate "book" for Home, Work, Office etc. Every book can have separate sections and each section can hold as many pages as you like…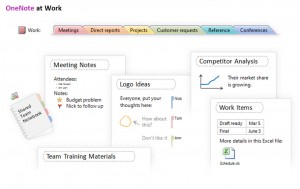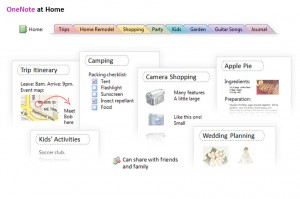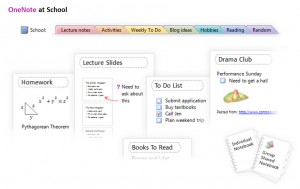 Click here to watch a short intro video:
http://www.onenotehelp.com/2010/04/06/how-to-organize-stuff-in-onenote/