The following two tabs change content below.
Latest posts by techwriter (see all)
© 2010 Ugur Akinci
Adobe FrameMaker 9 (FM9)'s master pages are powerful layout tools that will help you organize your document easily. Anything on the master page template is repeated on every page that uses that template, saving you time and effort.
You can insert VARIABLES onto a master page as well. On a body page which uses that template, the variable is updated as needed. For example, The CURRENT PAGE # and PAGE COUNT are two such useful variables that you can insert into your master page very easily.
First, select Create New Document from your FM9 opening screen:
(Click the images to enlarge them)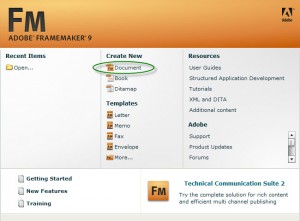 Then you need to decide on the page orientation of your new blank document. We choose Portrait: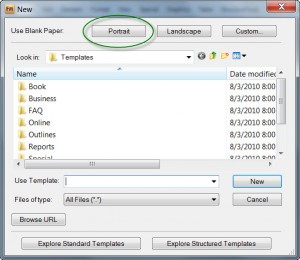 Click Portrait to display your blank FM9 document.
Select View > Master Pages from the menu to go the master pages editing screen: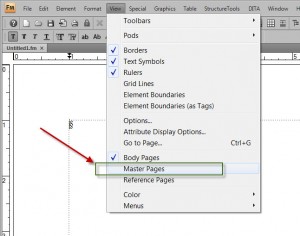 TIP: Learn how to navigate back and forth between your BODY, MASTER, and REFERENCE pages. When using FM9, you'll be trafficking a lot between these 3 main types of pages.
The default Master Page will display dotted-line template areas for HEADER, BODY, and FOOTER (not shown in the screen-shot):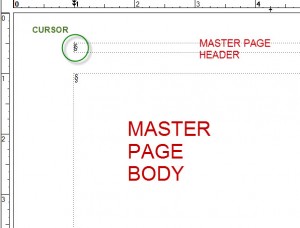 To insert page numbers into the Header, place your cursor where you want the page number to be and use the VARIABLES pod (table) at the bottom of the page:

Either double-click on the variable name you like, or select the variable and then click the INSERT button. Here in this example we have inserted two variables into the default master page header: CURRENT PAGE NUMBER, and (total) PAGE COUNT: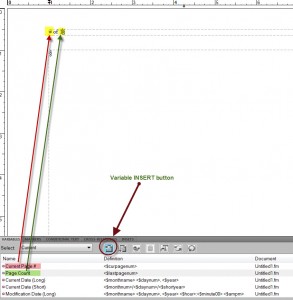 When you go back to your body pages by selecting View > Body Pages from the menu, you'll see that the first page number and total page counts are both inserted automatically to the header of your body page: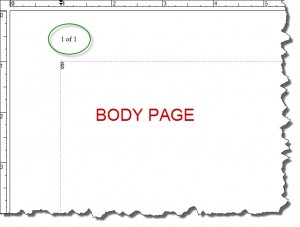 Editing an Adobe FrameMaker 9  master page is much easier than you thought, isn't it?