The following two tabs change content below.
Latest posts by techwriter (see all)
© Ugur Akinci
How to Write a Manual
by Elizabeth Slatkin (Ten Speed Press, 1991,120 pp) is the kind of perfect introductory book that a technical writing manager should buy and distribute to all her entry-level writers. Organized in a logical fashion, the book covers every obvious aspect of the document-writing process. It touches on a great many topics without going too deep into most of them, as one would aspect from such a beginner-level reference work.
The book offers the following chapters: Getting Started; 1) Why Are Manuals Important?; 2) Here's Your Road Map; 3) Planning; 4) Design; 5) Information Gathering and the Outline; 6) Principles of Good Writing; 7) The First Draft; 8] After the First Draft: Handling Revisions; 9) Evaluating Your Manual; 10) Production; 11) Exercises; Index.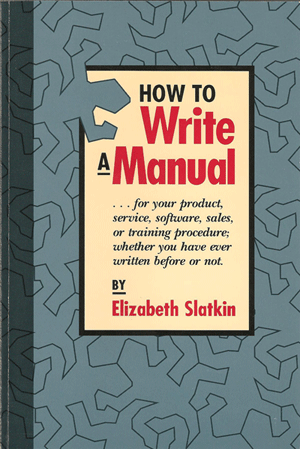 Chapter 5, Information Gathering and the Outline, is arguably the most important part of this work. Once you have a good outline, half of the job is done, as far as I'm concerned. This chapter does a good job in leading the reader by the hand, explaining how to come up with the best outline possible. It all starts with "getting the big picture." Then comes the section on interviewing the Experts. The chapter is peppered with short 5 or 6 item checklists to aid the novice. The Chapter Template is followed by a full-blown OUTLINE for a sample WREN Manual. This is the sort of reference chapter that most beginners will be happy to keep nearby.
The Production chapter, like all tech writing books penned in the early '90s, is outdated and geared mainly for print production. The developments since then in the publication and distribution formats is proof of the kind of REVOLUTION we've all been through within the last 20 years. It's nothing short of amazing.
Chapter 11 is reserved for amusing thought experiments and what-if exercises for a quick mental workout.
Overall, a balanced, comprehensive, and brief introduction to the art and craft of writing technical manuals. Excellent reading for all beginners.