The following two tabs change content below.
Latest posts by techwriter (see all)
© Ugur Akinci
Here is a book that must be read by all technical communicators at all levels of experience and seniority: The Elements Of International English Style
: A Guide To Writing Correspondence, Reports, Technical Documents, And Internet Pages For A Global Audience, by Edmond H. Weiss ((M.E. Sharpe, New York, London, 2005, 162 pp.)
This work is important for to reasons:
1) To learn how to write better in English, and
2) To learn to write technical documents that would be easier to translate and have them understood easily by those readers for whom English is a second language.
Weiss excels in delivering both promises.
What I liked the most about this work is the analytical way in which the task is chopped down to its logical components and the exhaustive manner in which each component is analyzed, with examples.
Here are the three main reasons why technical documents are not easy to translate or easy to understand when they are read by native speakers of English: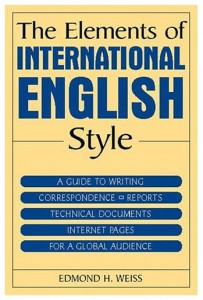 1) The writer does not write with sentence simple enough to understand without any ambiguity (i.e., the Principle of Simplicity).
2) The writer does not write with sentence clear enough to understand without any ambiguity (i.e., the Principle of Clarity).
3) The writer did not reduce the visual burden of reading due to lazy punctuation, page layout, or a combination of other factors (i.e., the Principle of Reducing the Burden).
Every principle is given its own chapter, with plenty of individual tactics and examples to explain how to implement the principle in real-life writing situations.
The issues surrounding translation and the best way to write in English with translation in mind are given their own separate chapter.
Another chapter is devoted to writing clearly in non-book formats, including office correspondence and email. All who correspond with counterparts from other countries and cultures would certainly benefit from thinking some of the issues raised here and the solutions offered.
The last chapter addresses the inescapable need for cultural adaptation. Even if one is a master of English he or she can still make errors in technical documentation of the cultural context is ignored. It's the icing on the cake, to use a phrase that probably won't translate too well into most other languages. And by that I of course mean a delightful bonus that feels like another sweet  morsel to enjoy after reading a book that itself feels like a big plate of chocolate cake.
Five thought-provoking appendices complete the book. My favorite is "a Portfolio of Bad News Letters."
Highly recommended for all technical communicators.