The following two tabs change content below.
Latest posts by techwriter (see all)
© Ugur Akinci
Writing and Speaking for Technical Professionals: Communication Skills for Successby Martin S. Roden and Teressa E. Murphy (Discovery Press, Los Angeles, 2009, 264 pp. ISBN 978-0-9793487-3-0, with TOC and Index) is a surprisingly comprehensive how-to book that should be on the book shelf of all technical communicators, especially those who are just starting out on their careers.
This work includes some of the evergreen topics that is covered in other "how to write" books as well, like how to write office correspondence and term papers. But it goes well beyond that. Although I've been in writing and communication business for over 20 years, I was delightfully surprised to read about some interesting topics that are rarely talked about in books of this kind; like lab reports, contract documents, patents, the section of plagiarism, and a lot more.
The scope and quality of this book is no doubt directly related to the sterling credentials of its two authors. Roden is Emeritus Professor of Electrical Engineering, California State University, Los Angeles. Murphy is a retired Vice President for IBM. So both authors have extensive "field experience" and what they write is backed up by a wealth of insider information and wisdom that shine.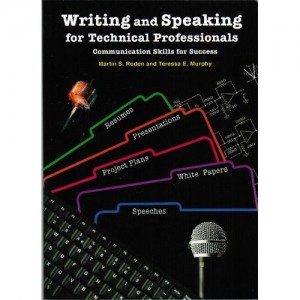 Their method of delivery is to introduce the main idea, the concept of a writing category, and then take the structural components of the document in question and explain each component in detail. We can feel the patient hand of a well-seasoned educator leading the reader section by section towards success.
For example, before explaining the individual components of a Term Paper (Abstract, Introduction, Body, Conclusion, References), the authors first explain the major steps involved in approaching and researching a term paper. Much forethought and planning went into the preparation of this 264 pp. reference book, obviously.
Those who'd like to do some public speaking will be delighted by the chapter devoted to "Oral Communication." I found the list of "Principles of Public Speaking" on p. 136 very useful indeed.
Every chapter is capped by an "Exercises" section, which presents dozens of imaginary communication situations that the reader/student is asked to cope with by coming up with the correct communication solution, as explained within the chapter.
The book is so thorough that even topics such as how to use word processing software, how to best utilize images and graphics in a document, and the basic rules of English grammar and good writing are also covered. Oh, let's also not forget the delightful illustrations of Michael Cox that adds a welcomed light touch to this serious volume.
Every student of technical communication should own this book. It's ideal for all class-room settings. Highly recommended.