The following two tabs change content below.
Latest posts by techwriter (see all)
© 2010 Ugur Akinci
1) I can touch the microphone icon on the desktop and make a Google search by speaking into the microphone.
I tired searching for stores, parks, shopping malls, weather in specific cities, by talking into the microphone. RESULT: This phone searches and finds what I'm looking for every time and displays it in the familiar Google search results screen. Just great.
2) I can click on the Navigator icon and then search for an address by speaking into the microphone. A map pops-up showing where I am. A blue line shows where I should be going. And a soothing female voice tells me which turns to take, how much is left to the next crucial turn etc. and leads me to my destination.
In about 3 or 4 occasions I tried finding different restaurants in specific cities near where I live. RESULT: Samsung Galaxy S works like a charm, every time! It has a very reliable GPS system indeed.
3) I can download FREE applications and games from the Android Market.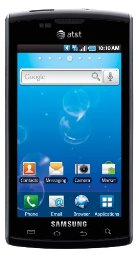 4) With the "App Killer" application I can shut down all open applications and processes instantly, with one click, making sure I won't be unnecessarily wasting memory or any of my allotted data download quota.
5) I can get on the Internet either through AT&T's built-in browser and connection or Opera (or any other compatible browser) and any available Wi-Fi network nearby. My Samsung Galaxy S automatically searches for any Wi-Fi networks around and alerts me to their presence.
6) I can call people or send them a text message with a single swipe over their names in the Contacts list. Swipe right and the phone calls them automatically. Swipe left and the texting editor displays automatically.
7) When I'm typing text, I can swipe my finger from one letter to another instead of pecking on each letter individually. That leads to faster texting. When a certain word pattern emerges, Samsung Galaxy S automatically pops-up a list and asks if the word I'm trying to type is any one of those on the list. If "yes" I click and insert that word right away into the sentence.
8] Its 5 Meg camera takes great pictures and shoots video clips at one click.
9) It's got Bluetooth.
10) It uses only one cable both to charge it (lasts at least 2 days with moderate use) and to connect it to my laptop. Great smart design.