The following two tabs change content below.
Latest posts by techwriter (see all)
© 2010 Ugur Akinci
Would you like to have headers and footers in your MS Word 2003 document that pick up text automatically from a heading paragraph style and display it dynamically?
FrameMaker accomplishes that through built-in RunningHeader variables, created specifically for that purpose. In MS Word it takes a tiny bit more effort to accomplish a similar effect.
1) Select View > Headed and Footer from the menu to display your header area and the Header and Footer tool bar.

2) Click and insert your cursor inside the Header dotted-line area.
3) Select Insert > Field from the menu to display the Field dialog box.
4) Select StyleRef from the Field Names text box to display the Style Names available: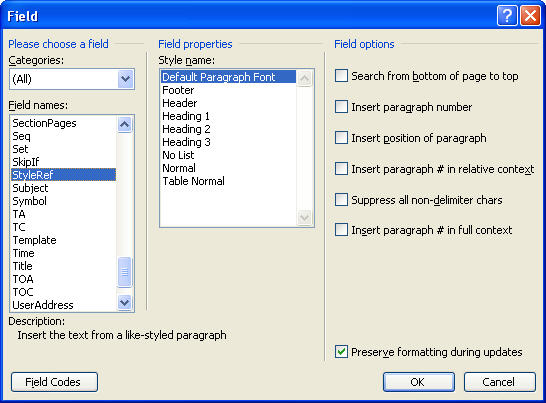 5) Click and select Heading 1 and click OK button to insert the text that's tagged with that style into the header: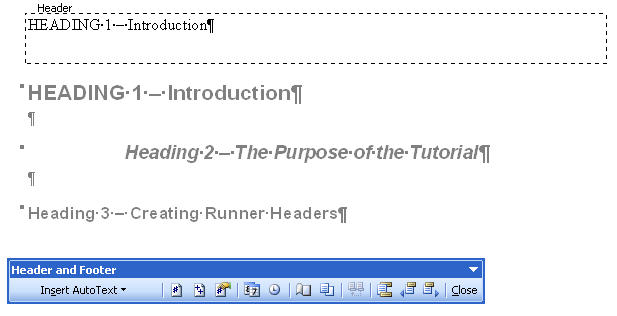 6) Click the Close button to close the Header and Footer toolbar.
NOTE: Repeat the same procedure for the footer and experiment by inserting different StyleRef fields.
7) TEST: Change the first line of text by deleting "HEADING 1 –" and leaving only "Introduction." The header will dynamically and automatically reflect the change you've made: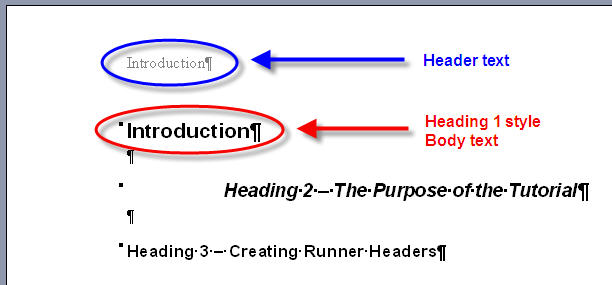 Congrats!  You've created your first "Runner Header."
If Header1-tagged text changes to "Configuration" on page 4 (just as an example), then your header on that page would also automatically change to display: "Configuration". Isn't that neat?
ASSIGNMENT: Can you display a Header 2 text right under the Header 1 text inside the header area?