The following two tabs change content below.
Latest posts by techwriter (see all)
© Ugur Akinci
Many years ago (back in the 20th Century, actually) , I showed up at the door of an employer for a job interview, responding to an ad that said the company was looking for an experienced "writer."
One of the first questions the interviewer (who also happened to be a VP) asked me was how many words I could type in a minute.
What I did next amazed even me…
I stood up and extended my hand. "Thank you for this opportunity to meet you," I said.
"Why?" she said, not sure what went wrong.
"I thought you were looking for a writer," I said.
"Yes, of course…"
"I honestly don't think so. I believe you're looking for a typist and unfortunately I'm pretty bad at typing fast."
She of course immediately understood where she went wrong and spent a good fifteen minutes trying to dissuade me but my decision was firm. I really did not think I would be happy at a company where the management did not know the difference between a typist and a writer.
The reason I shared this anecdote is this: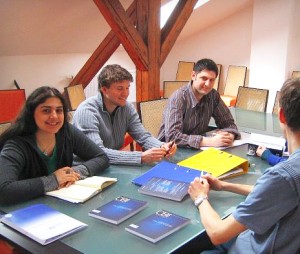 Sometimes "proposal writers" are reduced to the level of a typist and they don't even know it.
It is your job to make the client be aware that you are a lot more than a typist.
You're not just a "keyboard operator" or "keyboard technician." You're an expert who uses a keyboard as a tool.
You bring to the table a high-level of expertise that justifies the fee you're asking for. Otherwise, by just banging at your keyboard, you'll be delegated to the lowest rung of the value-added ladder.
"But I'm not an expert in that field," you may object.
Experts are not born. An expert is somebody who exhibits expert behavior. And in writing a business proposal you do not necessarily need to be an expert in the subject matter itself. If you can prove that you have expertise in putting together a successful proposal, you'll be immediately elevated from the level of a low-paid typist to a high-paid consultant.
So how can you exhibit expert behavior as a "proposal consultant"?
Very easy actually: by asking the right questions about the project.
The list is a very long one but you can start by asking the following questions to your client, to help them realize that you can be a valuable participant, a partner in the whole project, rather than a typist waiting for the delivery of content after all important decisions have been made.
1) Does the company have the resources (management buy-in, budget, know-how, assets) to bring the project to a successful conclusion?
2) Who is the competition? Have they handled some other phase of the same project? Do they have a built-in advantage?
3) How reliable is the proposal owner's definition of the problem? If the proposal-owner is wrong about identifying the source of the problem, then your solution offer may very well be different from the one mentioned in the bid document (e.g., RFP). For example, if the real reason why students at a school district are doing bad is because they have very poor eating habits, then painting the classrooms and adding new playgrounds won't affect the problem.
4) What is the USP (Unique Selling Position) of the company (that submits the proposal)? What overwhelming advantage do you bring to the table? What would be your cutting-edge? What one thing you do way better than anybody else in your field?
5) Will you be able to bring that USP to the proposal at hand? What obstacles would bar you from relying on your USP?
Etc.
Read all you can about writing business proposals and take your notes. Educate yourself so that the next time you respond to a "proposal writer" ad, you can knock their socks off by the depth at which you qualify the offer. That's when they'll know they are looking at a Proposal Consultant who also happens to be a Writer (a two-for-one package), and not a mere typist. That's also when you'll start building a serious career and start making the kind of money that you really deserve.
(Public domain image courtesy of Wikipedia)