The following two tabs change content below.
Latest posts by techwriter (see all)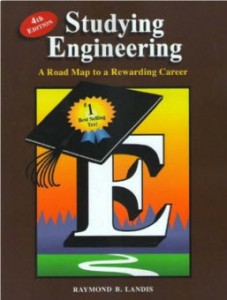 © Ugur Akinci
If you're a parent with a high-school kid who is debating whether to become an engineer or not, say this to him or her: "Here, read this book first and then decide on whatever you want to be…"
The book I'm referring to is STUDYING ENGINEERING: A Road Map to a Rewarding Career
by Raymond B. Landis, Dean Emeritus of Engineering, Computer Science, and Technology at California State University (Legal Books, 352 pages).
I wish I had this book when, as a young undergraduate many ages ago, I decided to shift from electrical engineering to social sciences. Would this book have convinced me back then to change my mind and become an engineer? Not sure. But it would have helped me make a more qualified and educated decision for sure.
This unique book not only explains the kind of vocation engineering is but also dives deep into student psychology and all the mental blocks some students throw on their own paths to success and how to remove them.
Here are the chapters of this comprehensive and authoritative volume:
1) Keys to Success in Engineering Study, 2) The Engineering Profession, 3) The Teaching/Learning Process, 4) Making the Most of How You Are Taught, 5) Making the Learning Process Work for You, 6) Personal Growth and Development, 7) Broadening Your Education, 8] Orientation to Engineering Education, Appendix a) 21 Definitions of Engineering, Appendix B) Greatest Engineering Achievements, Appendix C) Engineers Among World's Wealthiest.
Every chapter is followed by a Summary, References, and intriguing exercise Problems that put your understanding to test. Here is a typical Problem: "List ten benefits that will come to you when you're successful in graduating in engineering. Rank them in order of importance to you." (p. 29)
Prof. Landis understands the importance of motivation and determination for not only becoming an engineer but becoming a success in life. That's why he gives much emphasis on such motivational topics as "Understanding Yourself" (complete with a discussion of Maslow's Hierarchy of Needs) or "Satisfying Your Need for Self-Esteem."
This emphasis is well-balanced by chapters devoted to various ways to broaden your education by participating in engineering student organizations and societies (full list), competing in student design competitions (full list) and many other related topics like internship and pre-employment opportunities and personal advice.
The sections titled "Reflection" challenges the prospective student to reflect on lessons learned while framed sidebars share author's personal experiences and interpretations with the reader.
Another feature of this unique work that I loved is the number of rational solutions offered to typical student problems like "Non-Productive Action" and the concrete tactics to turn them into "Productive Action." Such solutions are offered in easy to follow tabular form, with each row of the table illustrating solution to a single problem. It's the sort of concrete guidance that anybody can adopt and apply for a successful college education, regardless of the topic actually.
I highly recommend this book to all high-school students and undergraduates who are looking for some honest but learned and concrete counseling on their engineering future.