The following two tabs change content below.
Latest posts by techwriter (see all)
© 2010 Ugur Akinci
1) Launch MS Word 2010 and open your document.
2) Select the word or phrase you'd like to include in the Index.
3) Select the References tab and then go to the Index sub-tab: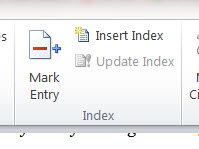 4) Click the Mark Entry button to display the Mark Index Entry dialog box:
The word you've selected ("salary" in this case) will automatically populate the Main Entry field.
5) Select the Current Page radio button to assign the current page number to the index entry. You can also select a Page Range (and enter it manually) or select the Cross-Reference option if you want your readers to go and lookup another and related index item.
6) Click the Mark button to turn the selection into an index entry.
NOTE: MS Word will mark the index entry with invisible curly brackets which will not show when you print the final document. Here is for example the word "position" marked as an index entry:
7) Repeat the same procedure for all the words or phrases that you'd like to include in the Index. For sub-entry items, type them in the Subentry field. But make sure you do not forget to enter the associated Main Entry item for each sub-entry.
NOTE: If you click the Mark All button, MS Word 2010 will mark every instance of the Main or Sub-Entry as an index entry.
8] When you are done with all your marking, place your cursor where you want the Index to appear (customarily, at the end of the document).
9) Click the Insert Index button to display the  Index dialog box:
10) Select a format from the Formats drop-down list. If you'd like tab leader between the entry and the page number, select the Right Align Page Numbers check-box, then select a Tab Leader from the associated drop-down list.
11) Select the Type of index entries you want (Indented or Run-in) and the number of Columns for your index. Select a language other than English (default) if you need to.
12) Click OK to generate your Index.
13) If you add or delete any index entries, update the index by clicking the Update Index button on the Index sub-tab on the top of the page.