The following two tabs change content below.
Latest posts by techwriter (see all)
© 2010 Ugur Akinci
It's been two months now that I'm enjoying my Samsung Galaxy S Android (Google) Phone.  First I balked at its price but boy, am I glad I bought this powerful little computer that masquerades as a cell phone!
One application that I started to rely on a lot more than I initially though I would is its fantastic GPS NAVIGATION system.
It's hard to list all the bells and whistles of this great application but first of all let me say this: it WORKS exactly like you expect it to work, and then some!
Here are some features to save you a lot of time and grief, especially if you're living in a major metropolitan area like I do with regular traffic gridlocks:
You don't have to type your destination. You can speak your destination into this phone and it understands even my accented English. A female voice starts the navigation right away and tells you where to go, when to turn, which exists to take etc. all up to 50 or 100 feet of precision. But if you don't like it, you can always mute the voice (but in tight traffic I don't see why that's an advantage).
The NAVIGATION remembers not only your top popular destinations but also your last destination and with a single click tells you how you can go back to your last point of origination. This is priceless because where I live the return path is sometimes not the same as the one that I follow to get to my destination. Sometimes arrival and return paths are totally different and this phone knows it all.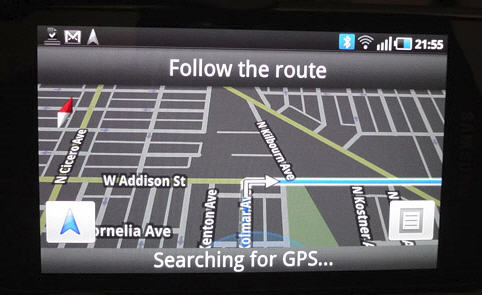 NAVIGATION remembers all your frequently-visited addresses so that you can receive directions from wherever you are to those favorite destinations with just one click. You don't need to enter them over and over again.
NAVIGATION provides you with multiple view options: the TRAFFIC view (the traffic map, see the image above), the SATELLITE view (the landscape/geographic view from high up in the sky), and the street-level PHOTOGRAPHIC view (you can actually see the street and the buildings themselves just as though you were walking).
NAVIGATION knows which roads have TOLL BOOTHS on them and which ones don't and warns you in advance accordingly so that you can calculate an ALTERNATE ROUTE. Any time you do not follow the first path that it calculates, NAVIGATION reroutes you and immediately shows another path to the same destination. So if you miss an exit, no problem!  NAVIGATION will safely turn you around and tell you how you can still arrive at your destination 🙂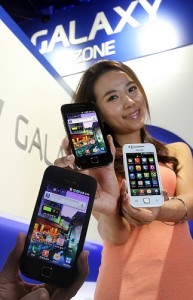 NAVIGATION shows you how CONGESTED the traffic ahead is!  Wow, how great is that?!  It shows you red-yellow-green etc. colored parts of the road depending on how bad (RED is the worst) the congestion is. It tells you the estimated distance and arrival time to your destination, all weighed in by traffic congestion ahead. If you want, it calculates an ALTERNATE ROUTE for you, again color coded for congestion, and with estimated distance and arrival time. This way an alternate route can be physically longer but in terms of time, it can be shorter. My phone shows you all that and allows you to compare all that data side-by-side.
The MAP of the NAVIGATION shows you all landmarks around the road you're traveling at. This is valuable if for example you're traveling in a city you're not familiar with and you'd like to know if there are any hospitals near by, or if you're passing by a golf course that a friend had mentioned earlier, etc. It provides you with a SITUATIONAL AWARENESS that is critical when you're driving around some place where you haven't been before.
Are you ready for this? This phone has an amazing LAYERS function that shows you where all the GAS STATIONS are, or where the closest RESTAURANTS or COFFEE HOUSES are!  Imagine you're running out of gas in the midst of tight traffic. You hit a button, and you see all push-pin locations of all the gas stations around you. You click one of those and you get the address, phone number, even the reviews and coupons (if any)! Then another click, and you can actually see the STREET PHOTO of the establishment in question. Lastly, when you make up your mind about which gas station or coffee house to visit, you hit another button and the same sweet female voice starts to steer you there.
There are more features to NAVIGATION but I'll stop here.
I have no idea how I survived for all these years in Washington D.C. and Baltimore traffic without this incredibly accurate and useful application. If you travel a lot or commute to work like me you'll probably like, no, ADORE this phone and its NAVIGATION application.
(NAVIGATION Screen Shot Photo courtesy of http://technabob.com/blog/2010/07/14/samsung-galaxy-s-android-phone-review/)
P.S. By the way… I just downloaded a great game over the weekend to play together with my 6.5 yr old niece. It's called Angry Bird. Since I have an Android phone I downloaded this lovely game for free. Then I checked the same game on my wife's iPhone. Yes, it's available from the iTunes store — for $0.99 heh hee!

What do you think about this post? Has it been useful for you? Do you own or thinking to buy a similar phone? What has been your experience? Feel free to share your ideas with other TCC readers here…