The following two tabs change content below.
Latest posts by techwriter (see all)
© 2010 Ugur Akinci
I love using Snagit. Yes, there are free screen-shot capturing software out there and I've used some of them over the years. But I still think Snagit does a better job in annotating the capture in its EDITOR. Snagit Editor is why it's worth the money you're paying in my opinion.
Snagit Version 10 (affiliate link) has this really great feature called LIBRARY where ALL your past captures are kept until you delete them.
This comes in handy when you might need a capture that you've made let's say 4 months ago. You open the LIBRARY and it's there.
When you've got dozens and hundreds of screen-captures you may need to SEARCH for the capture.
Snagit offers you convenient ways to search for your capture by WEB SITE and APPLICATION.
Moreoever, you can TAG your captures with icons to mark them as "Personal", "Funny", "Important", "Cool" etc. so that when searching, you can just click on an icon and see all captures tagged as such in your Library. It's just an easy way to organize and retrieve your screen captures.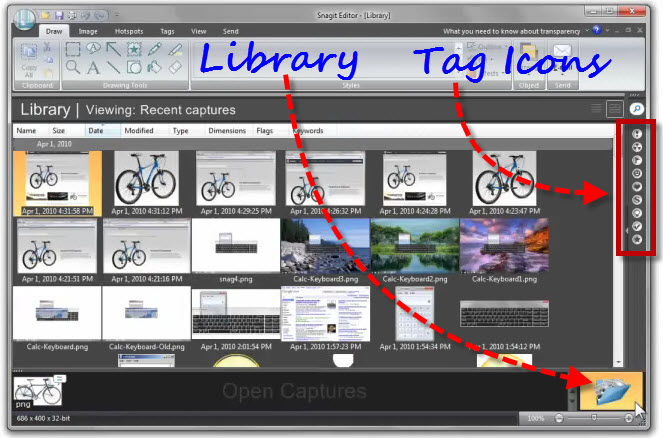 The above screenshot of Snagit Library is captured by Snagit from this good video explaining some features of the Snagit LIBRARY.