The following two tabs change content below.
Latest posts by techwriter (see all)
TO: My readers and friends
RE: Year's end wish and appeal
Dear  all, as 2010 comes to an end, here is my personal appeal to you:
Join me at Kiva.com today to lend MICRO LOANS (not donation or gift) as small as $25 to give a lift to the mom-and-pop entrepreneurs of the world!
Have you always searched like me for a meaningful, constructive, and transparent way to help those who are trying to help themselves?
Well, then you should really give a serious thought to issuing a Kiva loan today.
So far I've made 48 such loans to honest and resourceful small business owners all over the world and – guess what – all of them paid back so that I can re-loan the same amount again to other entrepreneurs like themselves. That's how just a mere $25 goes a long way to make a huge difference because it is circulated and re-lent over and over again!
Visit my lending page: http://www.kiva.org/lender/ugur1762
Here is how KIVA works: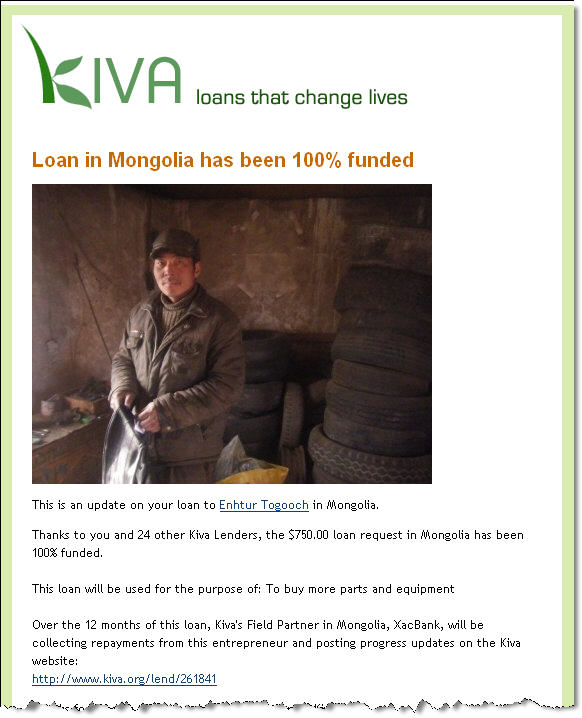 (1) You select a "third world" (sorry for the term) businessman, woman, or group, and lend out $25 or more by clicking just a few buttons.
(2) As the loan is paid back gradually in installments, Kiva holds and deposits the amount to a bank and takes the interest off the top (that's how they survive and stay in business).
(3) When all the loan is paid, your principal is paid back to you (without the interest).
It's a simple and transparent process that works. And of course any time you feel like making an additional donation to Kiva you can do that as well.
Visit www.Kiva.com today and see the hundreds of borrowers who need your loan to build a better world for themselves, their loved ones, and their communities. I'm sure you'll also enjoy to see thousands of others who are giving out these micro loans to welcome 2011 with hope and compassion.
I thank you in advance for joining me in this worthwhile effort.
I wish you all a happy, healthy, and compassionate New Year!
Ugur
P.S. What was your last restaurant bill ?
Skip your first restaurant dinner in 2011 and loan out that amount to a poor farmer in Togo, a struggling grocery store owner in Vietnam, a mother of five who is trying to set up her own beauty salon in Guatemala… The opportunities to help out others are endless. Check it out for yourself TODAY!