The following two tabs change content below.
Latest posts by techwriter (see all)
© 2011 Ugur Akinci
MS Word 2010 some really nifty line numbering options. Line numbers are used regularly in many legal documents. I think it makes sense when you are editing documents as well. Although Word of course have sophisticated editing and tracking options, it's still convenient to tell someone check out "line 534" instead of "the third line, in the second page of Chapter 2." It's just one more navigation tool at your disposal.
To number the lines of a document, go to the PAGE LAYOUT tab of the Ribbon and click the LINE NUMBERS button to display the following drop-down options list: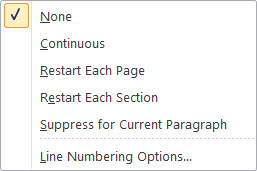 CONTINUOUS will number each line from the beginning to the end of the document.
RESTART EACH PAGE will start line numbering from 1 on each page.
RESTART EACH SECTION will start line numbering from 1 in each section.
SUPPRESS FOR CURRENT PARAGRAPH will skip numbering for the lines inside a text selection.
For CUSTOM line numbering, click LINE NUMBERING OPTIONS to display the LAYOUT tab in the PAGE SETUP dialog box: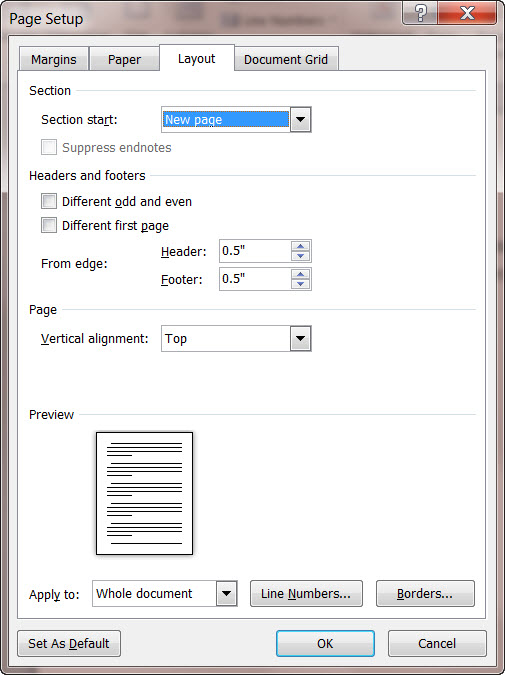 Click LINE NUMBERS to display the LINE NUMBERS dialog box:
Select the ADD LINE NUMBERING check-box.
To start the line numbers at a number other than the default "1", select a starting number from the START AT drop-down list.
To specify the distance of the line number from the text, select an appropriate measurement from the FROM TEXT drop-down list or leave it at AUTO for default value.
To specify the increment value with which line numbers should increase, select an appropriate value from the COUNT BY drop-down list.
Here you can also determine whether the numbering should be CONTINUOUS, or RESTART (from the value you've selected) at each new page or section.
After making your selections click OK, and then OK once again to close the Page Setup dialog box.
For example if you select 1 for START AT and 4 for COUNT BY, the line numbers will go like this: 4, 8, 12, etc.
Another example: if you select 6 for START AT and 2 for COUNT BY, the line numbers will go like this: 6, 8, 10, etc.