The following two tabs change content below.
Latest posts by techwriter (see all)
© 2011 Ugur Akinci
Do you have a FrameMaker list in your technical document that looks like this?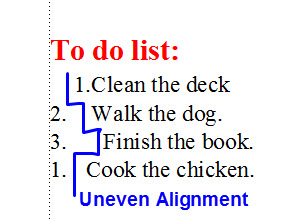 There are 3 ways you can correct such misaligned lists.
ERROR SOURCE 1: Extra in-line spaces.
Sometimes a line would have additional spaces in the BEGINNING of a listed item due to unnecessary or accidental pressing of the Space Bar. Select such blanks and delete them.
In the above example, line 2 has an extra space (but NOT line 3).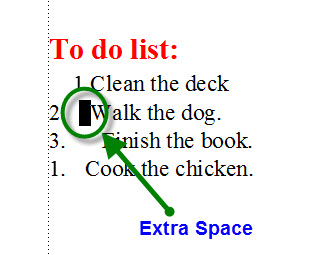 Select and delete it.
ERROR SOURCE 2: Autonumbering formula.
Sometimes the extra space would be in the Autonumber formula.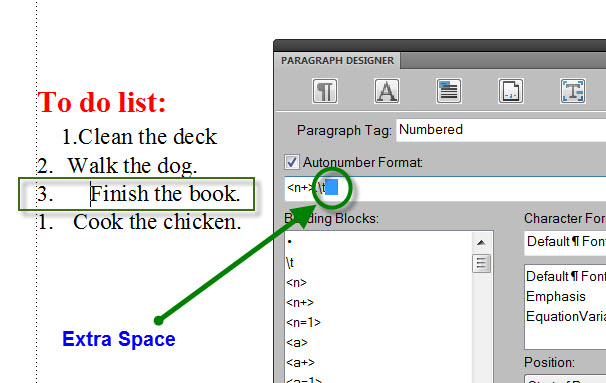 Display the Paragraph Designer's Numbering tab.
Select the extra space in the Autonumber Format field and delete it.
Then click Apply button in the Paragraph Designer.
ERROR SOURCE 3:  Indentation values.
Sometimes the problem will be with the FIRST indentation value in the BASIC tab: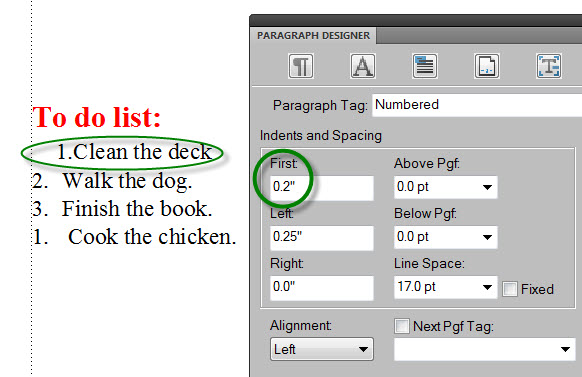 In this example lines 2 and 3 have 0 (zero) for First Indentation but 0.2″ for line 1. Enter 0 for line 1 and click Apply.
LASTLY, sometimes you'll see weird lines like the fourth one if the auto-formula is PRECEDED by a a DIFFERENT SERIES DESIGNATOR: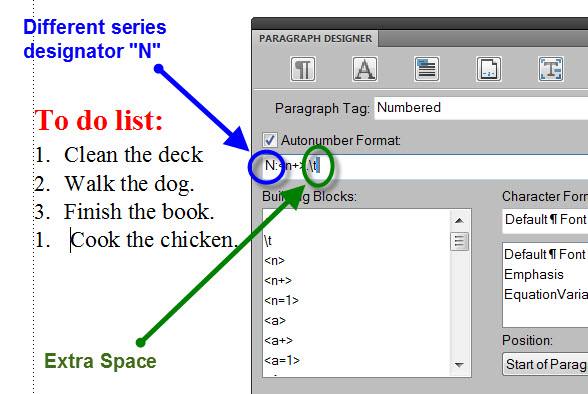 Line 4 not only has a different series designator than all the other lines but also a few extra spaces.
Select and delete both the designator N (together with the colon right after it) and the extra spaces. Click Apply.
Here is your list, cured of all its anomalies: