The following two tabs change content below.
Latest posts by techwriter (see all)
© Ugur Akinci
It's so easy to create all kinds of quizzes that you can grade in Adobe Captivate 5.
(1) Fire up your Adobe Captivate 5.
(2) Click the Create New > BLANK PROJECT link on the STARTER screen to display the NEW BLANK PROJECT dialog box: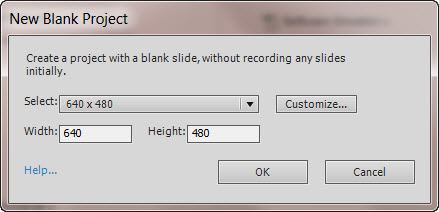 (3) Select a screen size like 640 x 480 and click OK to create your new blank project.
(4) Select QUIZ > QUESTION SLIDE (also: SHIFT + CTRL + Q) from the menu to display the INSERT QUESTIONS dialog box: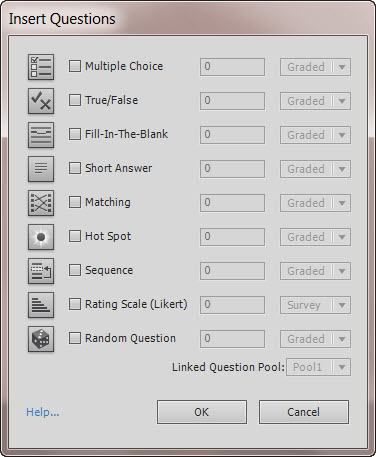 (5) Select the MULTIPLE CHOICE check-box.
(6) Enter the number of questions you like into the associated number field. For the sake of this exercise we'll enter 2. Leave the GRADED option as is since at the end of the quiz we would like to see our grade.

(7) Click OK to display your first multiple-choice question in editing window:
(Click the images to enlarge them)
(8) Type your QUESTION and the ANSWERS. The selected option button represents the CORRECT answer.
TIP FOR SELECTING and EDITING TEXT: Click the text template to display HANDLING BOXES around it. Then RIGHT CLICK to display the pop-up menu and select EDIT TEXT (or press F2):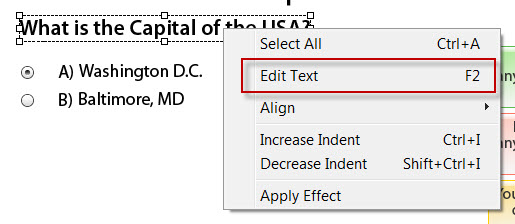 TIP 2: Make sure to click and select the OPTION BUTTON before the CORRECT answer, even if it's the SECOND one.
Here is our first slide: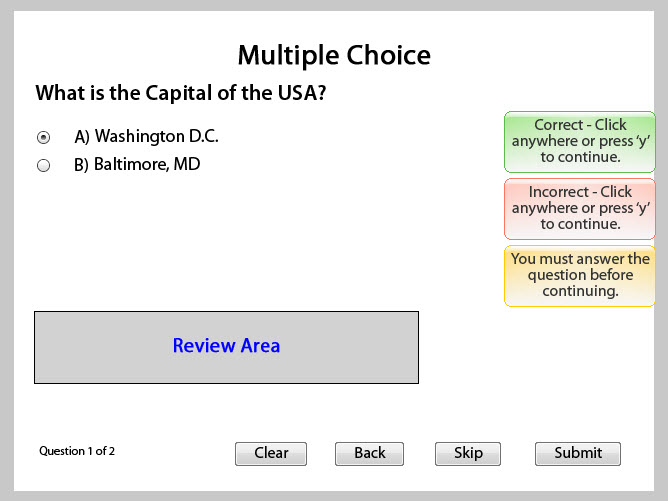 (9) Select the SECOND SLIDE and repeat step 8.:
(10) Select File > Preview > Project (or F4) to preview your multiple-choice test in a PREVIEW WINDOW:
(11) Answer the first question CORRECTLY (press SUBMIT) and the second one WRONGLY (and press SUBMIT again) to get your grade in the QUIZ RESULT SLIDE:
(12) OPTIONAL: click the REVIEW QUIZ button to review how you did in the quiz.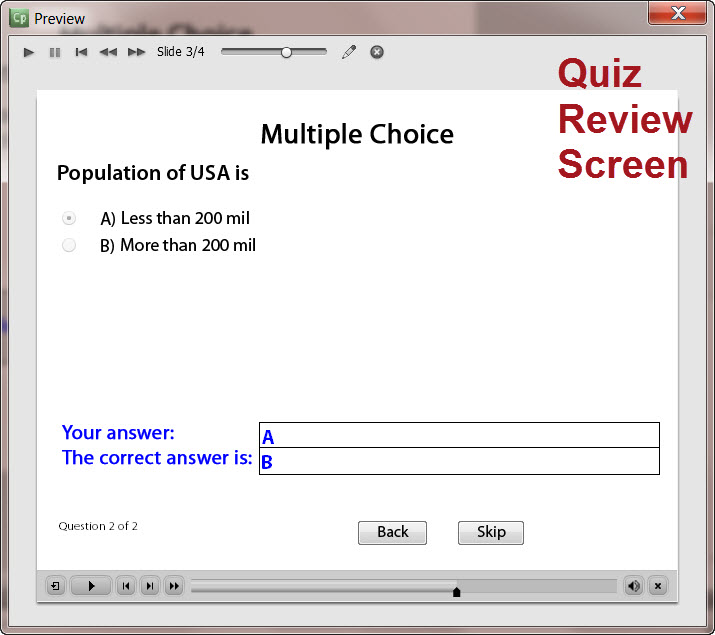 Now, that wasn't that hard at all, was it?  Good luck!