The following two tabs change content below.
Latest posts by techwriter (see all)
© 2011 Ugur Akinci
Large files have always been a distribution headache for technical writers. PDF files, book files of all kinds, PPT files need to be planned and generated always with an eye towards their distribution. If your files are too big to send around, review and approval processes will be jeopardized.
Here are six different ways to distribute your large files:
(1) Posting to Intra-Corporate LAN. If your company has a version-control, file backup, or content management system on LAN, then usually such systems also have the bandwidth to distribute your large files without any problems. Examples:  Microsoft SourceSafe, Agile. Consult with your tech support on that.

(2) Converting to a smaller-file format. For example, I like converting my PPT files into Flash format (SWF) before sending them out or emailing them. Search for free PPT-to-SWF converters on the Internet.
(3) You can also try zipping your files although in my experience this rarely makes a big difference in the final file size. Not too effective. My least favorite method to distribute large technical documents.

(4) FTP. My favorite (Windows) FTP client is CORE FTP. Its free Lite version is very reliable and meets all my FTP needs.
(5) Snail-Mail Distribution via CDs, DVDs, etc. This is old, slow and passe but still used by a lot of technical communicators around the world. Use it if you must.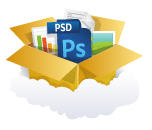 (6) Using dedicated online services.
Adobe SendNow offers to send your large files for $9.95 a month.
Dropbox is another solution, especially popular at this writing with Android mobile platforms.
Are you using any dedicated online or Cloud service to distribute your large files? Please share your experience with us. Thanks.