The following two tabs change content below.
Latest posts by techwriter (see all)
© 2011 Ugur Akinci
Imagine you have a legal document and its slightly altered version and you'd like to see both versions side by side and compare them by scrolling both of them simultaneously.
Or, imagine a friend of your has sent a translated document and asked you to read and make a comparison to see if the translation is successful or not. Again, opening the two documents side by side and then scrolling them at the same time would be very useful indeed.
This is something you can achieve very easily in MS Word 2007 and I wish more text editors  offered the same.
Follow these steps:
(1) Open both your MS Word 2007 documents and select one.
(2) On the View tab of the ribbon, click the View Side by Side button to display the Compare Side by Side dialog box: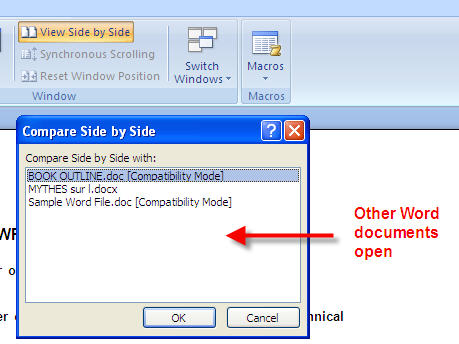 (3) Select the SECOND file that you' d like to view side by side (in this case, the file named "MYTHES sur l.docx") and click OK to display the two documents together inside the same Window:
(Click to enlarge the image)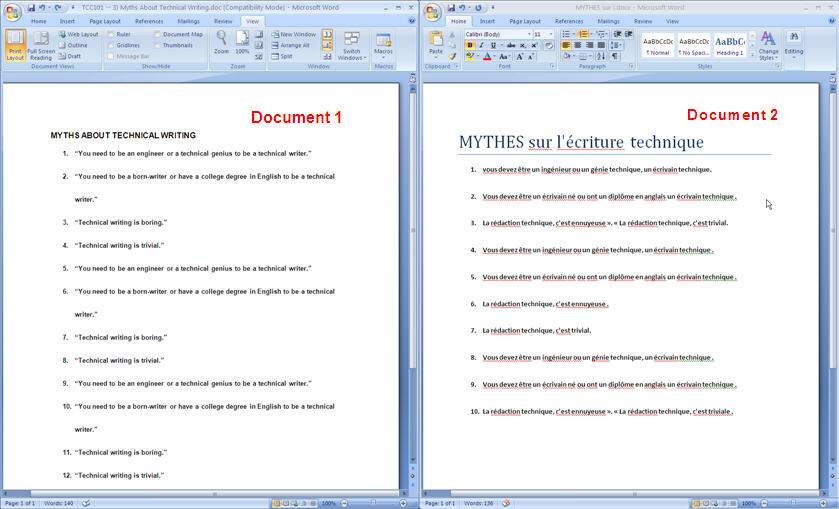 Notice that the View tab buttons for the first document have changed to this: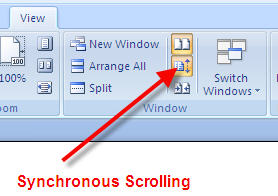 (4) Click the Synchronous Scrolling button (if it's not already selected by default) so that when you scroll one document the other also scrolls automatically.
TIP: From time to time the synchronization between the two documents may get out of line, as in the case of trasnlated document, for example. You may find yourself looking at Page 3 in the translated document whereas you're still in Page 2 in the original. In those cases:
First, click and unselect the Synchronous Scrolling button.
Then, scroll both page to the same spot.
Lastly, re-click and select the Synchronous Scrolling button to re-establish synchronization. Unfortunately there is no "automatic" way to do this and every time you are out of sync you need to re-set the side-by-side feature manually.