The following two tabs change content below.
Latest posts by techwriter (see all)
© Ugur Akinci
A MS PowerPoint 2010 slide can have one or all of the following "Header & Footer" information:
Date and Time
Slide Number
Footer
In the Insert tab, click the Header & Footer button to display the related dialog box:
(Click to enlarge the image)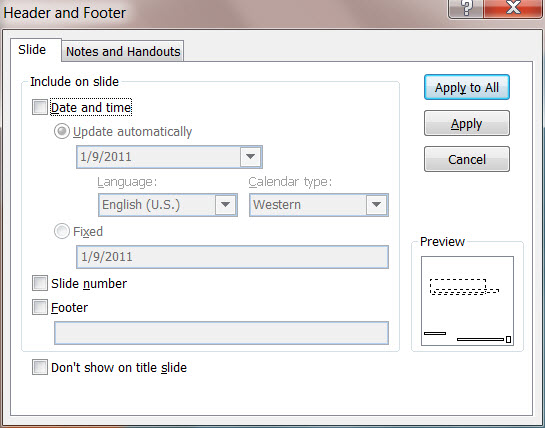 In order to display any of this information, the MASTER SLIDE you have selected/edited and applied to the body slides must have a PLACE HOLDER for this information.
But that is not enough!
For example, you may have a FOOTER in your master file. But even if you enter your URL for the footer it will not display consistently in your body slides.
For consistent display of such information you need to enter them through the Header and Footer dialog box.
Place a check-mark next to the information you'd like to appear on individual slide(s) and then click Apply (for a single slide) or Apply to All (for all slides in the project).
This gives you a lot of flexibility in determining what your FOOTER should actually look like. Possibilities are endless: copyright information, web site URL, phone number, etc.