The following two tabs change content below.
Latest posts by techwriter (see all)
If you are a user assistance (help file) writer and developer, here is an upcoming conference you need to be a part of… Those who are into DITA, XML, structured authoring and all kinds of "single-sourced documentation" projects should have a look as well. Training budgets are still tight in many companies but this is one conference that might be worth the effort and the investment.
Registration is open for the nineteenth annual WritersUA Conference for Software User Assistance. The event takes place March 13-16, 2011, in Long Beach, California.
The official marketing brochure says: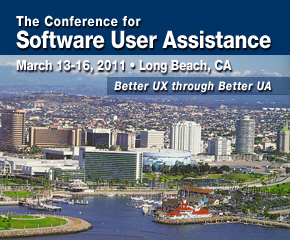 "The conference provides the most comprehensive and timely information specifically designed for user assistance professionals. It features over eighty cutting-edge topics from over fifty experts, project demonstrations from other user assistance developers, plus an exhibition of products and services, certificate programs, and networking events. For further information, click here."
The conference topics cover a broad range of key tools, processes, technologies, and techniques.
Multimedia Production
DITA and XML
User Experience
Content Strategy
Writing Techniques
UA for Mobile Devices
Hands-on Computer Tutorials
Adobe, Microsoft, Google
Case Studies