The following two tabs change content below.
Latest posts by techwriter (see all)
© 2011 Ugur Akinci
Tomorrow, SUNDAY, March 27th, we'll have our second webinar on a topic that we hope will benefit all writers: "10 Easy Ways to Write Better".
There are many ways to do that and the BEST way is to keep writing. Cooks cook. Drivers drive. And writers write. It's as elementary as that.
But besides just writing a lot, there are also TECHNIQUES and time-tested ideas that will definitely help you if you apply them. We'll cover 10 such ideas tomorrow.
In tomorrow's webinar we'll go through a special slide presentation that I've prepared specifically for this occasion and we'll go over the slide show together. I will then post the same presentation to this web site, minus the comments and the chat.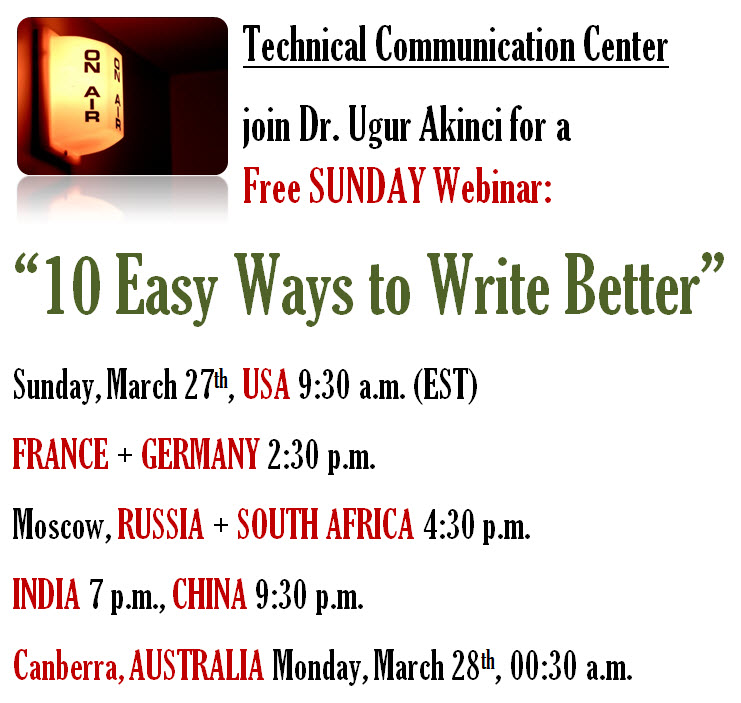 But the Webinar room is EMPTY right now. It will be open on March 27, SUNDAY, 9:30 a.m. (EST), USA time.
NOTES:
(1) There is no need to download anything. You just go to the above URL and boom! You'll be in the webinar room. Simple as that.
(2) Unlike many webinars that I know, this session will not be recorded. Why? So that you can feel free to make comments and participate.
So, hope to see you there tomorrow "morning" (in USA), "afternoon" (in Europe) or "evening" (in India and China). Suddenly our world is much much smaller, isn't it? What a privilege and pleasure to meet with you all like this! Let's give a warm hand to science and technology, shall we?