The following two tabs change content below.
Latest posts by techwriter (see all)
© Ugur Akinci
Did I tell you how much I love to run? Probably not.
I think all writers should run for a simple reason: when I run, some magic happens and all the clogged pipes in my brain pop open… then begins the flood of ideas, projects, plans… a fantastic pulsing rush. The natural high.
That's what doubling the oxygen flow to the brain does I guess, without fail.
Did you know that some well-known writers run regularly? For example: Joyce Carol Oates.
Here is what she said about running:
"Running! If there's any activity happier, more exhilarating, more nourishing to the imagination, I can't think of what it might be. In running the mind flees with the body, the mysterious efflorescence of language seems to pulse in the brain, in rhythm with our feet and the swinging of our arms."
I could never say it better: "the mysterious efflorescence of language seems to pulse in the brain". That's exactly what happens when I run as well.

For one thing, you really start to observe things around you in a way that's not possible when you are sitting in a room, in front of your keyboard or TV.
Among other things, running is an intense olfactory experience. Once I've made a catalog of the odors and fragrances I've experienced on my running route:
* Fresh-cut grass
* Laundry detergent (sometimes mixed up with steam vapor)
* Carpentry and fresh sawed off wood
* Still-warm and ticking car engines
* Onions and assorted kitchen odors
* Meat grilled on barbecue
* Charcoal
* Fresh paint
* Cat urine
* Perfume
* Sweat
* Rubber
* Softened asphalt
* Pine resin
* Rose and honeysuckle bushes
And it doesn't stop with the fragrances. Your mind and senses start to drink in hundreds of other things that you knew existed but had not experienced for some time…
If you start slow and keep at it you'll be amazed at the way your mind opens up like an orchid as you keep kicking back those miles.
My advice to you: start slow, perhaps by walking. When I first started off 12 years ago, I ran about 100 ft and then had this incredible stabbing-pain on my side (the runner's stitch) that stopped me dead on my track. I had to sit down and control my breathing for a minute and then head back home, walking, embarrassed and feeling defeated.
Within one year, however, I was running 30 minutes without any problems. At the end of two years I ran my first 5K and even a 10K (which was like a spiritual experience, really). I'm slow (33′ for 5K and 72′ for 10K) but I finish what I start. That builds not only physical stamina but mental resilience as well. It's good discipline.
Measure a path around your house so that each time you'll know how much you're running. That kind of numeric data is important in terms of gauging your progress. The more you can measure your progress quantitatively, the more confidence you'll build up in your running. And the more confident you get about your running, the more the same confidence will transfer to other facets of your life — including your writing.
I can write a lot more about running since it's something that gives me so much joy and satisfaction. Sometimes, and usually during the cold winter months, I give up running for a few months. That's when I start to grow those "big love handles" around my waist, put on 10 or 20 pounds, and get miserable progressively.
As soon as I hit the pavement and start to do my 5Ks, I'm back in business. Not only my health improves but so does my writing. I can write more stuff, with great enthusiasm, and within less time. This whole blog post, for example, is written after an easy-going 5K jog, in one sitting (except for the list of fragrances which I published earlier in another blog of mine).
I'll leave this topic with a photo of my last three pairs of running shoes — all New Balances — since without them I can't enjoy this fantastic and basically free gift without hurting my knees and ankles. I'm grateful that they've carried my aging body for this long without any major mishaps, knock on wood.
Here they are:
NB 718:
NB 645:
And my latest, which I'm about to replace any time soon these days:
NB737: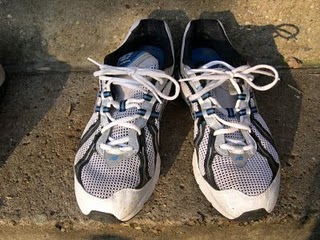 Be happy. Be healthy. Run, write, and live the good life.
You want me write more frequently about running? Any questions? Please let me know. Feel free to share your experience regarding the links between running and writing.