The following two tabs change content below.
Latest posts by techwriter (see all)
© 2011 Ugur Akinci
Here is an interesting new report sponsored by Michael A. Stelzner's Social Media Examiner group:
2011 Social Media Marketing Report
Here are the selected highlights:
90% of marketers said that social media was important to their businesses.
50% of responders have less than 1 year of social media marketing experience.
58% of marketers are using social media for 6 hours or more each week and 34% for 11 or more hours weekly.
59% spend 1 to 5 hours per week on social marketing.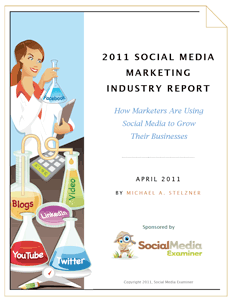 People aged 20 to 29 years spend more time than other age groups using social media marketing.
More than 50% of marketers said social media generated qualified leads.
72% of marketers who have been using social media for more than 3 years report it had helped them close business.
Nearly all marketers who've been employing social media marketing for a year or longer report it generates exposure for their business.
Facebook, Twitter, LinkedIn and blogs were the top four social media tools used by marketers.
92% of marketers are using Facebook and 75% plan on increasing their activities.
73% of marketers plan on increasing their use of YouTube/video, blogs, Facebook and Twitter. (CLICK HERE for an OPPOSITE VIEW: "[A survey of] two dozen technology vendors, retailers and marketers found that they received little benefits from Facebook and other social networks.")