The following two tabs change content below.
Latest posts by techwriter (see all)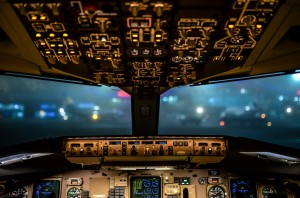 An airplane that's about to land "momentarily," in one sense or the other…
© Ugur Akinci
Writers try to hang on to the correct meaning of every word. Sometimes that's a lost cause when the world moves on before they do.
Take my obsession with the adverb "momentarily" — as in "we'll land momentarily."
I've forgotten the number of times I've heard this announcement at the end of my flights.
The original word denotes something that will "last only a moment." Something that is fleeting. It describes the duration of an event.
Instead, it's regularly used to mean "soon" and "in a moment." It is used to indicate the proximity of a future event.
To me that impoverishes the English language since it loses the distinction between something that lasts only a moment and that which is expected to take place shortly, even if it may last a long time.
Why should anyone get rid of something useful and distinct and opt for a poorer mode of expression, I don't know.
But this is what I know: the English-speaking world made its decision and decided to use "momentarily" to mean "soon" and "in a moment." Period.
So who the heck am I to insist that that usage is "wrong"?
A language is like an ocean and I cannot command the way it flows any more than I can command the ocean currents.
It turns out, however, I'm not the only who is bothered by this collective pressure to use the "wrong" version of a word and adopt it for everyday usage.
This delightful Slate article addresses the same issue: The "Nonplussed" Problem — How long should we cling to a word's original meaning?
Highly recommended.