The following two tabs change content below.
Latest posts by techwriter (see all)
© 2011 Ugur Akinci
"Microsoft Word 2010 in Depth" by Faithe Wempen is a great reference for all those working daily with Word.
This comprehensive volume is well written, with ample screen-shots and clear step-by-step instructions for hundreds of different tasks. Faithe Wempen, M.A., is a Microsoft Office Master Instructor and the author of more than 100 books on computer hardware and software and her obvious expertise shows on every page.
The book is divided into seven "parts":
Part 1: Working with Text (Creating and Saving Documents, Typing and Editing Text, Correcting and Printing Documents)
Part 2: Formatting a Document (Applying Character Formatting, Formatting Paragraphs and Lists, Creating and Applying Styles and Themes, Formatting Documents and Sections, Working with Templates and Nonstandard Layouts)

Part 3: Tables and Graphics (Creating and Formatting Tables, Working with Photos, Working with Drawings, WordArt, and Clip Art, Working with Charts, Working with SmartArt and Math Formulas)
Part 4: Collecting and Managing Data (Performing Mail and Data Merges, Copying, Linking, and Embedding Data, Working with Fields and Forms)
Part 5: Working with Long Documents (Outlining and Combining Documents, Citing Sources and References, Creating Tables of Contents and Indexes)
Part 6: Collaboration and Online Sharing (Collaborating with Others, Protecting and Securing Documents, Developing Online-Delivered Content)
Part 7: Customizing and Extending Word (Macros and Add-Ins, Customizing the Word Interface)
This comprehensive volume is capped with three useful appendices: Recovering Files and Repairing Word, Converting from Other Word Processing Systems, and, Setting Up and Modifying Office 2010.
As someone who deals frequently with documents over 50 pages, I was especially interested in Part 5 (Long Documents). Like all others, this chapter is also very easy to follow and illustrated with great annotated screen shots like this one: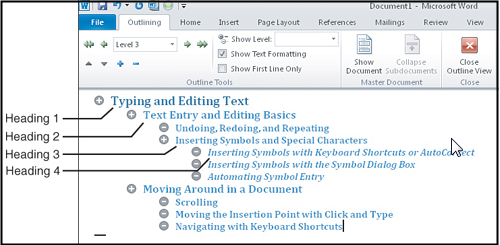 If you use Word, you can certainly learn a lot from this volume. Recommended.