The following two tabs change content below.
Latest posts by techwriter (see all)
© 2011 Ugur Akinci
If there are certain chapters in your Adobe FrameMaker 9 book that you'd like to exclude from the final PDF print, you can do that easily by right-clicking on the chapter and selecting File > Exclude.
The excluded chapter's ICON will display a RED outline around it: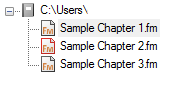 In the above example, Sample Chapter 2 is excluded and that's why its icon has a RED border.
CAUTION: Make sure you UPDATE the whole book after excluding a chapter to renumber the pages and before you generate the PDF copy. Otherwise the page numbers will not follow each other smoothly due to the excluded chapter.
All in all, however, I think you'd be safer by physically deleting the unnecessary chapter from your book file since some of your links and cross references might be pointing at the excluded chapter(s). In those cases there will be links and references that would not work in your final book.
This method might be permissible when you'd like to see how a book would look if certain chapters were excluded. It's useful to test out a hypothesis like that. But it can also lead to complications if you've got a 1,000 page book and you try to exclude a substantial portion of it that has all kinds of links to all the other chapters. So be careful when applying this method.