The following two tabs change content below.
Latest posts by techwriter (see all)
© Ugur Akinci
"Structured authoring" and "single sourcing" have been hot buzz phrases for quite a few years now. If you're a technical writer, I'm sure you're either applying these documentation methods in your daily work, getting ready to implement them, or learning about them.
I personally am in the last two categories, both still learning ins and outs of single sourcing and also exploring the ways in which my company can make the shift from unstructured to structured authoring in the future. Actually, Sarah O'Keefe has been one of the SMEs that I have already contacted in that regard. She was helpful and sharing, with good suggestions to follow. That's why, given my previous positive experience with Sarah's company SCRIPTORIUM of North Carolina, I was pleased to receive their newly published report — THE STATE OF STRUCTURED AUTHORING.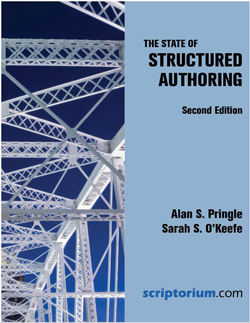 The reason I was excited about this report before even reading it is because of my past experience with Scriptorium SMEs: they don't sugar coat the message. I've heard Sarah, for example, on several occasions bring up both the pros and cons of structured authoring. In this day and age of relentlessly positive marketing onslaught, I really appreciate that kind of disciplined (and rather rare) objectivity.
This volume is a summary of SCRIPTORIUM's 2011 survey, a follow up to a similar one they conducted back in 2009 with almost identical questions, about the state of structured authoring (SA), as the title suggests.
Who is applying SA in their daily work and who is not? For what reasons? What tools they are using or not using? How do they see the future? The report is a unique way to check the pulse of our technical communication community in one of the most important issues confronting us today.
Here are some highlights from this well-illustrated survey report:
More than half (56.6%) of the 265 respondents said they are either currently applying SA or in the process of doing so.
63.2% of those who said they were not thinking about implementing SA gave cost and time-required as reasons why. I have to admit, in my company those are serious concerns as well. You have to justify the shift to SA from a bottom-line perspective. That's how management looks at the matter, and understandably so. So when it comes to dollars and cents, "cost and time" always loom large as important "inertia factors."
Perhaps you would not be surprised to learn that Adobe FrameMaker (Structured) is the most popular SA tool used out there, given FM's already established wide user base. But the second most popular tool took me by surprise and I've made a mental note to learn more about.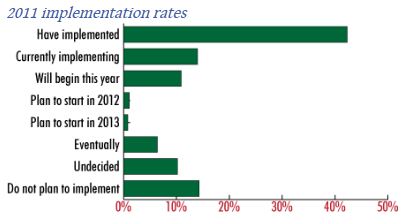 Again, DITA (Darwin Information Typing Architecture) left the competition in the dust as the most popular SA structure used (60%). No surprise there either. But it was also useful to see the list of contenders in terms of getting informed about the alternatives.
One other thing I like about this survey is the time perspective built into quite a few answers. For example, the reasons for implementing SA are presented not only in terms of the present reasons, but past and future decision factors as well. "Reuse" emerged as the top past-present-future reasons why the respondents said they implemented SA. The other six also-important reasons help expand one's thinking if you're building up a case to suggest SA to your client or company.
Another interesting way this report breaks down the responses is by company size. When estimating the time required to implement SA, for example, it was interesting to see that the respondents thought the larger the company the longer it would take to implement SA. So if you're a lone writer or SA consultant and dealing with a small client (under 10 employees) you might have a better chance seeing the implementation through in the short run than, say, a Fortune 100 corporation. As we all know, big ships don't turn on a dime.
Chapter 5, "Implementation Cost," is another eye-opener if you're ever thinking to shift to SA because the data presented here is priceless. I have to admit the numbers I saw here are a bit more than what I thought they would be. But nevertheless this unique (because I challenge you to find this info anywhere else)  information will help me a lot in terms of showing my management what the real costs could be if and when they decide to make the move. Better face up the realities upfront rather than getting caught unprepared later down the road.
However, it's also interesting to note that the most popular answer when asked "how much do you expect to spend?" was "I don't know." I can certainly sympathize with that predicament. That makes it even more imperative to get yourself acquainted with the range of possible costs if you are seriously considering a move to adopt SA.
Other chapters address survey findings on related issues like most popular Content Management Systems, change management, training and education, etc.
My overall assessment: a highly recommended and timely resource especially for those technical communicators and managers who are either in the process of adopting SA or putting together a proposal to do so. By using the variety of results presented in this book, you can not only expand your SA horizons but also inject your planning and proposal with the kind of quantitative data that management appreciates.
http://www.scriptorium.com/books/the-state-of-structured-authoring-second-edition/
KINDLE ALERT: I love Amazon Kindle. But this report includes large tables that do not render well in Kindle. I've read it in ePub format and it renders everything perfectly inside Firefox browser.
Here is a free EPUBReader plug-in for your Firefox. Once you install it you can read this volume with no problem.