The following two tabs change content below.
Latest posts by techwriter (see all)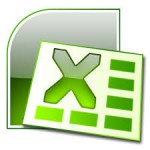 © Ugur Akinci
MS Excel 2010 allows you to visually compare two series like the following:
Actual performance vs. The Goal
This year's performance vs. The last year's performance
Etc.
In Excel, you do that by creating a COMBINATION CHART.
Here is how you do it:
(1) Create your data in MS Excel:
This is a fictitious data of New Members versus Membership Goal by Months.
The FIRST SERIES is the NEW MEMBERS column.
The SECOND SERIES is the GOAL column.
(2) Select the whole table with both series. Then select a chart type by selecting Insert tab > Column > 2-D Clustered Column chart:
(Click image to enlarge it)
(3) Click and select the SECOND SERIES on the chart:
(4) Select Insert tab > Line > 2-D Line to create your combination chart:
(Create to enlarge the image)
Now as you can see, the monthly goals can be compared very easily with that months actual record.
You can try pout and experiment with different DESIGN options on the ribbon to get different looks for the same combination chart:
(Create to enlarge the image)