The following two tabs change content below.
Latest posts by techwriter (see all)
© Ugur Akinci
There has been a lively discussion going on in LinkedIn for the past month or so about the relative merits of STC (Society for Technical Communication) membership. Although there are positive comments as well,  the majority of the comments are somewhat critical in nature.
I've been an STC Senior Member for long years and supported my organization at every opportunity. I'm glad I did that.
In some years my membership has lapsed. This year I paid my dues in 4 installments and maintained my membership. But overall it has been a year-to-year decision for me, especially when the annual dues went way up (basic entry-level membership is around $215 right now). My company does not reimburse the expense.
I really enjoyed all the STC annual conferences that I could attend in the past (one of them which has been reimbursed  graciously by my company). But as much as I want to, I can't attend all the STC conferences due to the total travel-and-boarding expense involved.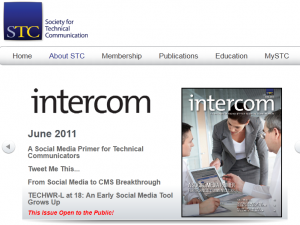 I of course do love each and every issue of Intercom and am sorry that right now it's available only as an online magazine with the basic membership package. But the magazine is in good hands (Liz Pohland, Editor) and still publishes very engaging and relevant content.
My local Wash DC chapter has many dedicated volunteers and they really carry the good work forward. I also volunteered in the past, especially for the chapter's annual document competition jury. I enjoyed my interaction with all the other STC members, although as years go by my schedule leaves me less and less time to volunteer for similar duties.
Most people in the LinkedIn discussion seemed to be complaining about the rising cost of the STC membership, with additional fees for all webinars and classes, and not getting back much in return to justify that cost.
I can certainly understand that sentiment in this age of off-shore outsourcing, rising pressures for re-training, and many free sources of information (this portal included) available on the Internet.
But there are also two other factors that not too many people have mentioned:
(1) Demographics. The last time I inquired the total number of STC members, the number stood somewhere around 15,000. Perhaps the number is up to 20,000 now or hopefully more. But still this is not a large number to maintain a considerable budget and provide must-have services. Without increasing its number of members, I don't believe STC can do more than what it's already doing now. That should be number one priority for the STC leadership. Having said that, the "numbers-budget" issue is yet another chicken-and-egg conundrum, I'm aware. But that's what leadership is for: to punch through such barriers and cut through dilemmas.
(2) STC is not a trade union (and was never meant to be). It has no enforcement authority to help with labor negotiations, review and enforce contracts. It has a great Career Center and an annual Salary Survey but at the end you are on your own to find a job and negotiate your pay. That I believe is another unspoken reason why some writers feel that they can do without STC.
Here is the full discussion thread in case you'd like to read all the contributions and add your own to it:
http://www.linkedin.com/groupItem?view=&srchtype=discussedNews&gid=1276817&item=56265318&type=member&trk=eml-anet_dig-b_pd-ttl-cn