The following two tabs change content below.
Latest posts by techwriter (see all)
© Ugur Akinci
You have created a set of great master pages in FrameMaker for Document A.
Then, you started creating Document B but you still want to use the same master pages that you've created for Document A.
How would you do it? Very easy.
(1) Save Document A as your template file (let's call it "FM_template.fm").
(2) Open both FM documents (template file and Document B).
(3) Select Document B.
(4) Select File > Import > Formats to display the Import Formats dialog box.
(5) Click the Deselect All button.
(6) Then select only the Page Layouts check box.
NOTE: Make sure "FM_template.fm" is selected in the "Import From Document" drop-down list.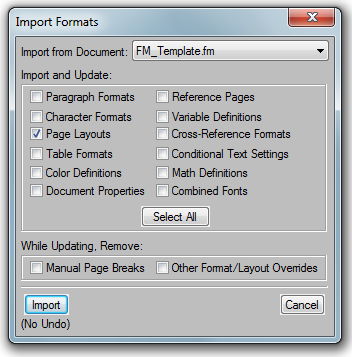 (7) Click Import and all your master pages will now be available for you to use in Document B.